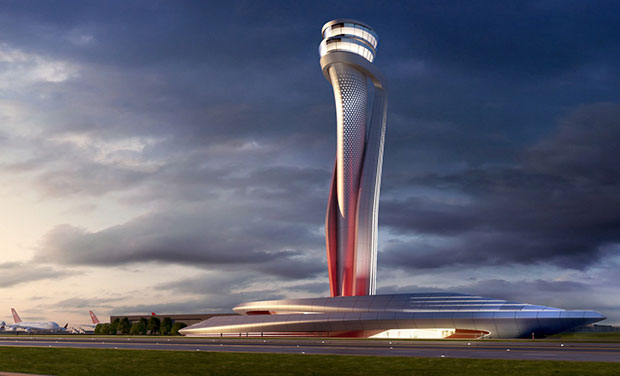 Ferrari designers take to the skies
Pininfarina and AECOM beat Zaha, Fuksas and Grimshaw to create towering tulip design for new Istanbul airport
Istanbul's new international airport is to get an impressive regional air traffic control tower. The scheme is being referred to as the biggest airport in the world, and will handle 150 million passengers a year.
The winning design for the ATC Tower is a joint effort between international architecture and engineering firm AECOM and Pininfarina, the Italian design firm known for its automotive designs for Ferrari and Alfa Romeo. That explains the tower's architects' references to sleek car design, but in fact the form is supposed to suggest a tulip - a symbol of the city.
"Our aim was to combine the dynamism and romance of Pininfarina's architectural style that is so influenced by automotive design with AECOM's in-house aviation architecture capabilities," says AECOM's Jennifer Dixon.
"We were looking for a striking design fit for a 21st century airport while remaining sensitive to Istanbul's unique heritage," says Yusuf Akçayoglu, chief executive officer of IGA, who commissioned the design.
The duo beat off competition from big hitters including Zaha Hadid, Fuksas, Moshe Safdie, a collaboration of Grimshaw Architects and Nordic - Office of Architecture, and RMJM. As well as the tower, AECOM and Pininfarina will design the accompanying technical building.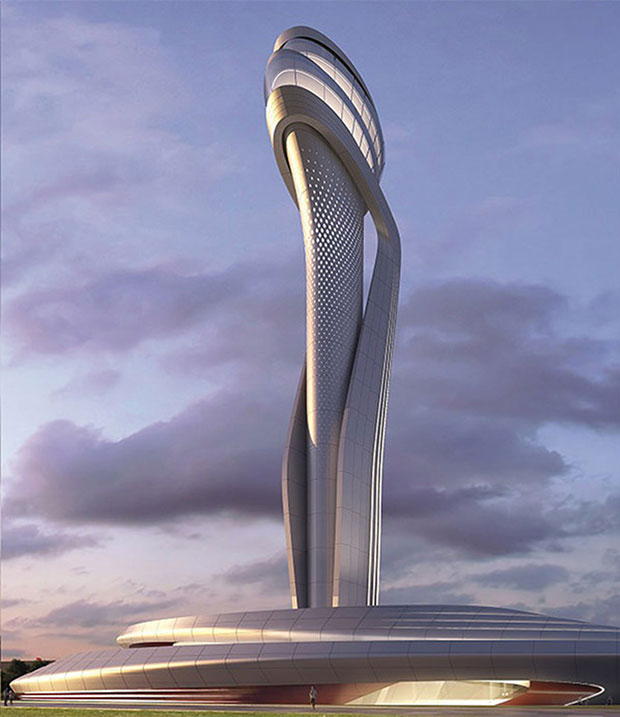 Grimshaw and Nordic already have their hands full, as they are designing the terminal building of this, Istanbul's third airport, along with Haptic Architects. Located on the Black Sea coast, Ter­mi­nal 1 of the Is­tan­bul New Air­port will be the world's largest ter­mi­nal un­der one roof, with a gross floor area of 1msqm, says Nordic. The terminal is due to open in 2018.
AECOM are also busy in Istanbul, constructing Bio Istanbul is a large mixed-use complex outside the city that aims to become the region's main hub for biomedicine. More great architecture stories and books can be found here.