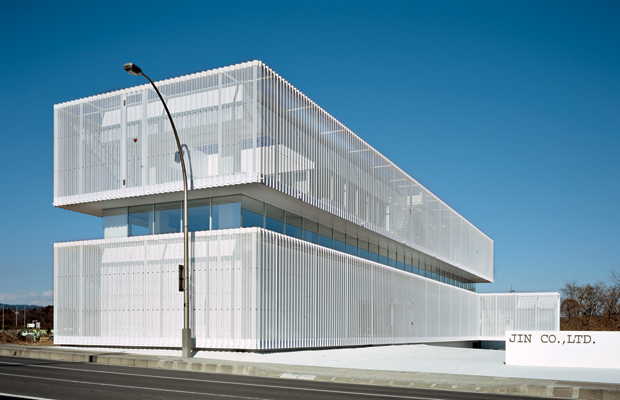 The 12 Days of Architecture: #10 Maebashi, Japan
JIN Co. Office Building by Jun Aoki & Associates
Jun Aoki's commission for JIN Co. Ltd is an office building located in Gunma Prefecture on the outskirts of Tokyo. The new headquarters for this clothing and home goods manufacturer sits on a flat site.
The architect notes that almost any type of building can be built here, given that the area provides little context. The design of the building responds to the area's physical character, which Aoki interprets as 'reality without substance'. The building is a box within a box, with the inner volume appearing behind the outer one. Made entirely out of folded, perforated metal, the exterior acts as a shading device and visual screen for the office spaces within. A box-like steel frame rendered in white provides support for the system. A smaller, rectangular entry walkway is the only extension from the main volume. The building's three floors are visible on the facade, with the ground and third floors screened with the perforated metal, and the second floor's windows set back in lieu of the screen to provide shading.
Internally, organisation of the spaces distinguishes the three floors as well. The rectangular areas of the first and third floors are each subdivided into several rooms. At the ground level, one of these subdivisions provides the entry space; the others include a cafeteria and roof terrace. The second floor (complete with unscreened windows) is an open-plan office area, with only stairs and elevators interrupting the space. Continuous circulation occupies the space between the screen of the facade and the inner volume.