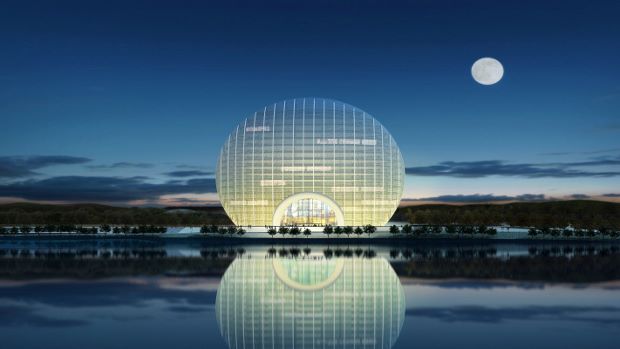 What do you think this wild new hotel looks like?
The Kempinski group says its luxurious new hotel on Lake Yanqi is shaped like a fish, a scallop and the sun
China's latest statement hotel is awash with symbolism. Front on, the Sunrise Kempinski Hotel Beijing on Lake Yanqi just outside the capital has been designed to look like the rising sun, which its owners say symbolizes the country's fast-developing economy. The hotel entrance, meanwhile, is in the shape of a fish's mouth, symbolising prosperity. And from the side, the building is scallop-shaped, which represents fortune.
It took Shanghai Huadu Architect Design Company 60 days to develop the building design, 9,300 construction workers 24 months to put it up, and it opens for business next month, on 17 November. No mean feat, given the building's complexity. It is 97m tall with 21 floors and an exterior glass surface covered in 10,000 individual glass panels.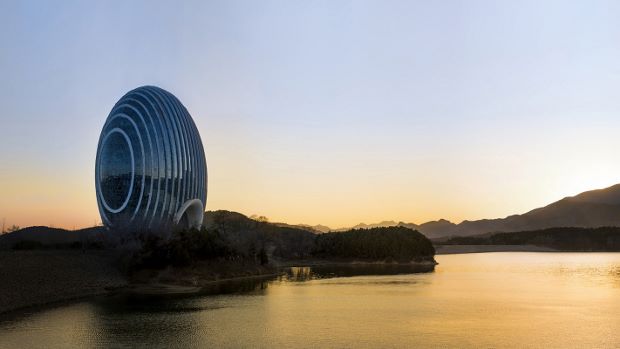 "The top of the building reflects the colour of the sky, the middle of the building reflects the Yanshan Mountain, and the bottom of the building reflects the lake," explain the architects.
The hotel is just 60km north of Beijing, and right on Lake Yanqui, with views of Yanshan Mountain and the Great Wall. With its 8277sq-m conference centre, four ballrooms and 23 meeting rooms, it's been conceived to appeal to high profile government conferences. The main ballroom has wall panels upholstered in velvet and a gridded ceiling, " Within each square is a chandelier of coloured crystal pieces arranged in various lengths, mimicking the outline of a mountain range with a purplish hue," says the hotel.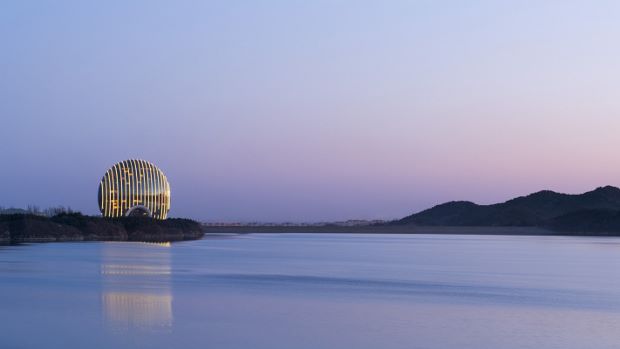 In fact all the interiors ooze contemporary Chinese luxury. They are work of Rhode Island design firm DiLeonardo, whose pièce de résistance is a custom-designed artwork that hangs in the lobby comprising thousands of round glass spectrums hanging from the ceiling to the ground on stainless steel cables.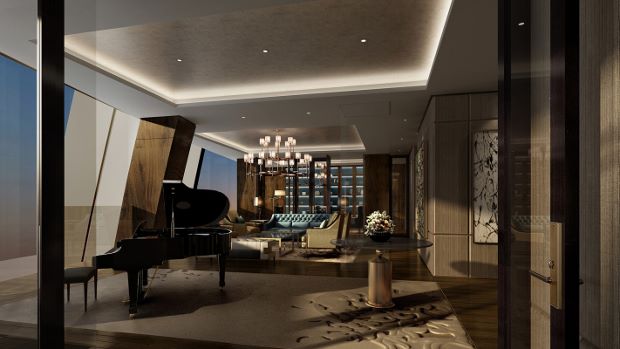 This is the European luxury hotel chain's biggest property in China so far. Though given the pace of development, it probably won't hold that position for long. For more great new buildings from around the world, sign up for a free trial of the Phaidon Atlas, our peerless architectural resource, here.