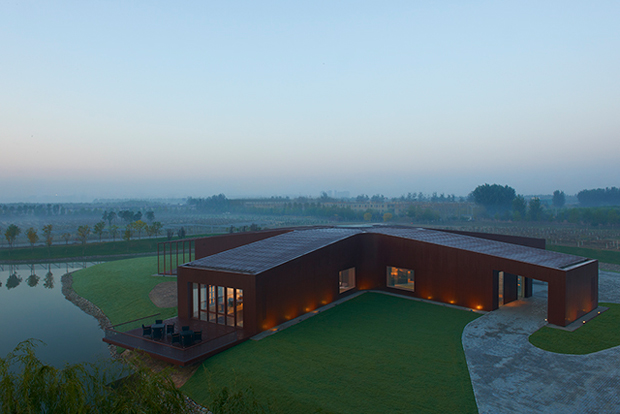 Beijing island winery is shaped like an asterisk
Japanese architect Keiichiro Sako creates timber-clad winery on man-made lake outside Chinese capital
Vineyards have been lavished with plenty of high-class architectural attention in recent times. Frank Gehry's Le Clos Jordanne winery in Ontario, Faustino in the Spanish region of Ribera del Duero region by Foster and Partners, and Herzog & de Meuron's Dominus Winery in Napa Valley, California, all spring to mind.
Now a young Japanese architect is getting in on the act. Keiichiro Sako, who formed his company less than a decade ago, has a team of 30 spread across two studios in Beijing and Tokyo, with most of his architects drawn from Japan "in order to keep a high quality in both design and construction management", he says.
Asterisk is Sako's Beijing winery – and the building clearly takes its name from its form (though we must admit it appears to be more like a cross). Either way, we think our colleagues at Wallpaper* magazine would be flattered.
The timber-clad winery sits on a small floating island on a manmade lake just outside the capital. Each of the five wings have a different function. A roadway leads up to the building and guests can be dropped off under the covered entranceway, which comprises one wing. They then make their way to the lobby at the asterisk's centre, which is illuminated by a round skylight. The second wing houses a showroom and wine bar, and next to that is the dining room. There are private function rooms in the fourth block, and a kitchen and staff facilities in the last one. Meanwhile, the all-important wine cellar is in the basement.
This seems to be a good time to design a winery in China. Sales of wine there rose to $41bn in 2012, that's 20 per cent up on the previous year. Having said that they're still not drinking that much per head, only 1.4l each in 2011 compared with the French at 53.2l per head. Meanwhile, if you like to delight in innovative architecture such as this be sure to check out our extensive range of architecture titles in the store.