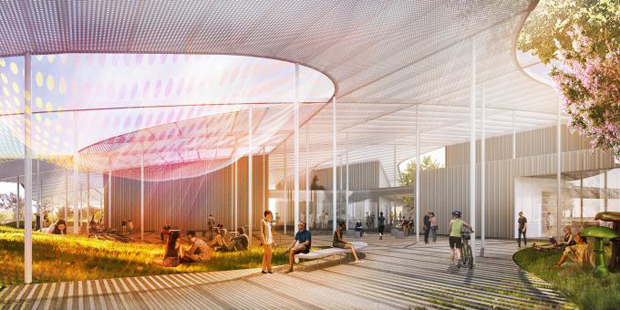 Frieze architects SO-IL land UC Davis Art Museum
"Curved glass walls and soaring canopy turns traditional museum model inside out," says University Chancellor
Congratulations to one of our favourite 'emerging' New York-based practices, SO–IL who've won the competition to design a new campus art museum for The University of California, Davis. SO-IL, selected from three finalists following a five-month competition, will collaborate with San Francisco-based Bohlin Cywinski Jackson to complete the project.
It's been a year of accolades for the New York based practice: it was lauded for the Kukje Gallery in Korea and its tent designs at the Frieze Art Fair and recently received the Architectural League of New York's Emerging Voices award.
Its winning design was selected for its alignment with the characteristics of UC Davis, its celebration of culture and cultivation, its use of light and its potential to expand and evolve.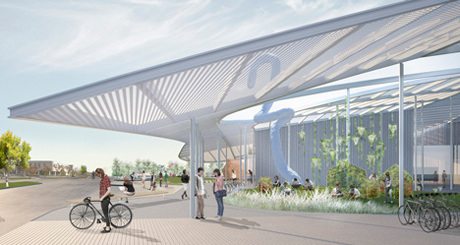 "The design for the new museum at UC Davis turns the traditional model of museum design inside out," said UC Davis Chancellor Linda Katehi. "From its curved glass walls to its soaring canopy, it will draw people in, surprise them, and engage them."
The design takes inspiration from the campus' central valley landscape and climate to create a place that invites the outdoors in. The building will engage visitors with a sequence of interconnected interior and exterior spaces defined by curved glass walls and capped with a 50,000 square foot canopy. Made of porous steel, the 'grand canopy' is the central feature of the space.
At night, the canopy will illuminate from within, establishing a new focal point for the campus and beckoning drivers along Interstate 80 between San Francisco and Lake Tahoe. The distinct shape of this open roof also presents a new symbol for the campus that the architects' hope will create a new locus of activity and center of gravity on campus.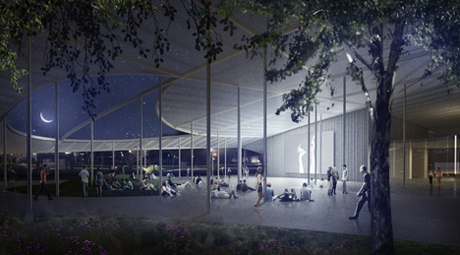 Inspired by the agrarian countryside that stretches beyond the site, the design explores the idea of diverse landscapes, textures and colours stitched together. Under the canopy, interwoven curved and straight sections seamlessly define inside and out, creating a series of interconnected interior and exterior spaces, all with distinct spatial qualities.
'The future art museum is neither isolated nor exclusive, but open and permeable; not a static shrine, but a constantly evolving public event,' write the architects. Meanwhile, if you like to delight in innovative architecture such as this be sure to check out our extensive range of architecture titles in the store.