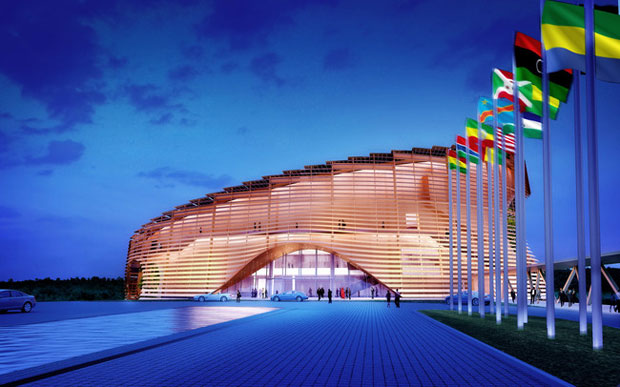 New York duo designs African Summit Centre
Inner facade of husband and wife team WORKac's new building is clad in pale gold aluminium
How do you represent emerging progressive Africa to the world without relying on nostalgia or cliché? This was the question the architects of an exciting new building in Gabon put to themselves.
The architects, Dan Wood and Amale Andraos are a husband-and-wife team who previously worked at Rem Koolhaas's OMA. They struck out on their own as Work Architecture Company (WORKac) in 2003, and recently won the commission to design the African Congress Centre.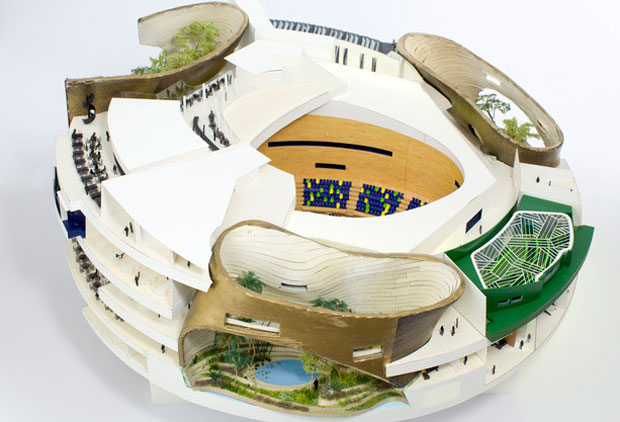 It's being built in the capital, Libreville, to host the Summit of the African Union in spring 2015. In shape, it's a 320ft-diameter cone base, meaning its inner and outer façades will both tilt inwards. The outer one comprises louvres of African limestone. These won't actually open, as the position of the sun in equatorial Gabon doesn't change from season to season. The inner facade is clad in pale gold aluminium, and there's a shaded walkway running around the building between the two.
Inside the $100m-plus building there's a 1000-seater auditorium and three smaller theatres, each with their own interior garden. Florida landscape architect Nathan Browning has been growing plants in Gabon to represent the country's ecosystems, in preparation for the summit. The roof is tilted, allowing rainwater to collect and pour into a waterfall which will water Browning's gardens.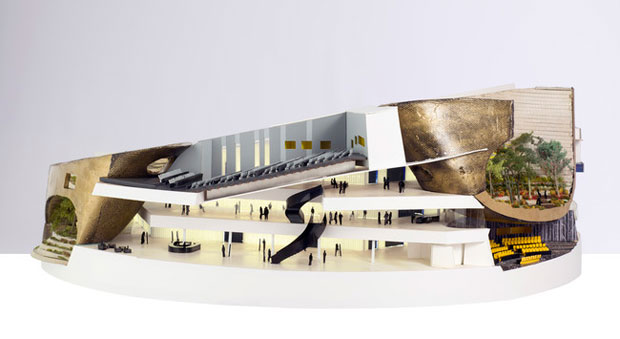 It's being dubbed L'Assemblee Radieuse, and is far and away the New York-based firm's biggest gig to date. How sensible of them, then, to bring in some experts in the form of Epstein, convention-centre specialists from Chicago.
And if the thought of travel brings for you the promise of seeing new architectural landscapes you really should take a look at the Phaidon Architecture Travel Guide app.
With it you can browse through 1500 buildings from 840 different practices by location, project, and type; you can filter by region, practice and type, or scroll about on an interactive map; you can also recommend projects to friends via Facebook, Twitter, email and text - and you can bookmark your favourite buildings. Each entry has pictures and an explanatory text written by Phaidon's panel of experts, as well as accessibility information and a map pinpoint. In fact, you may be so busy looking down at it you might just forget to look up.