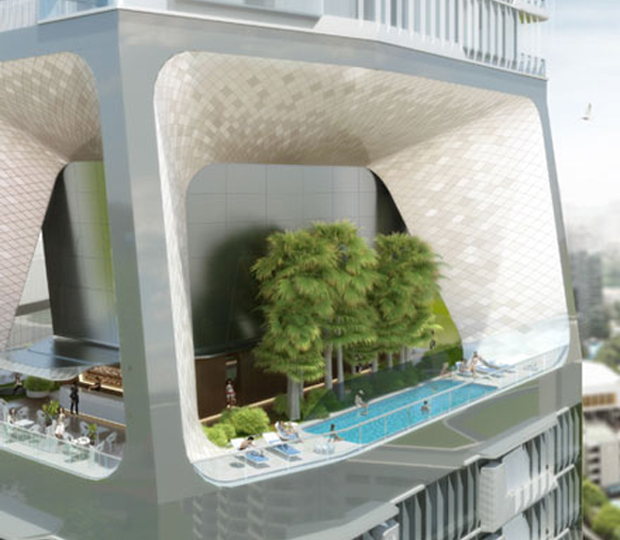 Outdoor Living - hundreds of feet up
We've spotted a trend for big balconies on tall buildings - only those with a head for heights need apply
We wonder what you think about what seems to be an emerging trend for large outdoor spaces near the tops of tall buildings. We first spotted it when plans for Richard Meier's proposed Mitikah Office Tower in Mexico City (pictured below) appeared with its domed conference room and surrounding garden on the 19th floor.
Since then we've noticed it on Angkasa Raya by Buro Ole Scheeren (below), a 268 metre high residential block to be built alongside the Petronas Twin Towers in Kuala Lumpa. Then there was The Cloud in Seoul by architects MVRDV which caused a row online earlier this year, mainly due to the released CGI prints, which, for many looked a little too close to images of the twin towers attacks.
Now we've just seen details of UNStudio's Scotts Tower in Singapore which takes the idea surely to its glorious conclusion, featuring as it does, gardens and swimming pools (adult and children's) on huge voids named Sky Frames at the base and near the top of the tower. It's probably the most dramatic example yet, offering a social platform for outdoor events (ones where alcohol will not be consumed presumably). Let us know what you think of them in the comments box below.