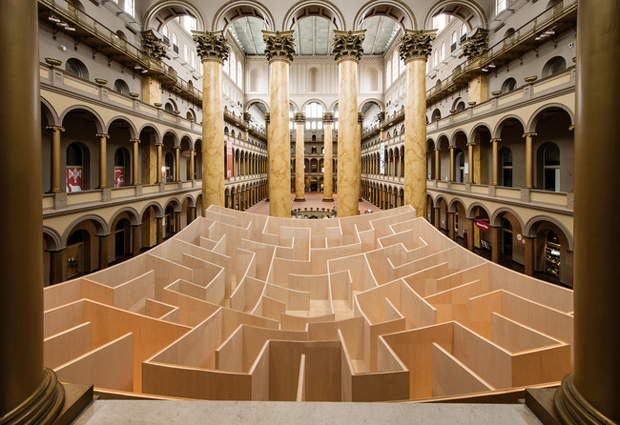 Have you seen BIG's new Washington maze?
'I had anxiety attacks that it was going to be too easy,' says Bjarke Ingels, 'but it's actually pretty confusing'
Washington DC's National Building Museum is going BIG. In January the venue, which devotes itself to the history and impact of the built environment, is hosting an exhibition of the work of Danish architects, Bjarke Ingels Group (BIG), in the Great Hall.
You can see a lot of their groundbreaking work in our recently launched Phaidon Atlas which goes into great detail about partcicular aspects of their innovative work.

The National Building show will be a vast affair, taking up much of the 300ft-long, multi-height space complete with 75-foot-tall Corinthian columns. In the meantime though, the hall is accommodating a smaller temporary installation, also courtesy of Bjarke Ingels and his talented creatives. Having configured a trash incinerator in Copenhagen which doubles as a ski slope, and a Shanghai Expo pavilion whose visitors were positively encouraged to take a dip in the pool and cycle up the concourse, they've now turned their attention to a labyrinth.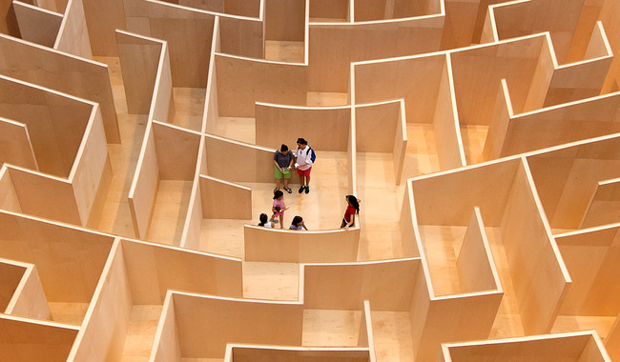 The BIG Maze, which opened last week, tries to make sense of and at the same time play with the immense and lofty room. Made of pale and pleasing maple plywood which reaches a maximum height of18 ft, at 57sq ft it fills a third of the hall.
The life-size maze has been designed with just one entrance and one exit, and the clever part for visitors is that the walls are lower as they reach nearer the maze's centre. "The idea is that while you're still in the maze, suddenly you see this amazing three-dimensional landscape," says Ingels. "You see all the complexity from the heart of it. Spatially, the experience is somewhat more exciting than the typical maze," he believes.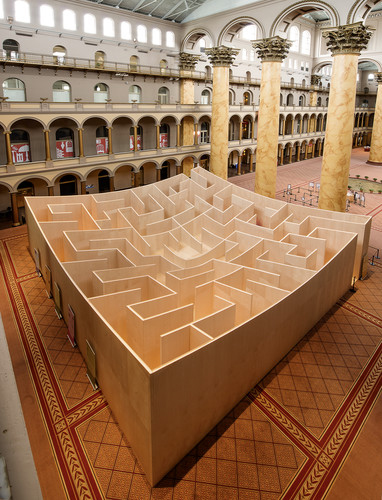 But that's not to say that the route inward is straight-forward, according to Ingels. "I had anxiety attacks that it was going to be too easy. But it's actually pretty confusing." For fun-lovers of all ages, the BIG Maze is open until 1 September. Check out BIG's practice page in the Online Atlas and, if you like what you see, sign up for a free trial. Meanwhile if you're travelling this summer remember to download a copy of the Phaidon Architecture Travel Guide App before you go.