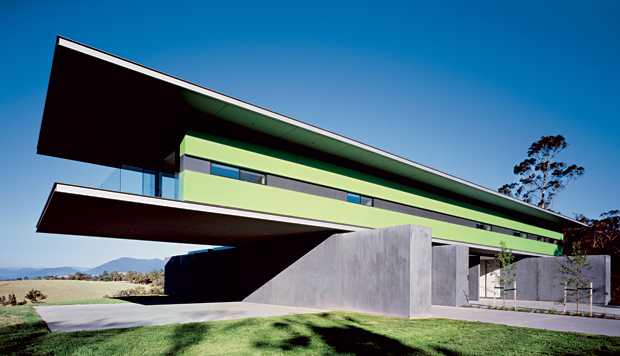 The 12 Days of Architecture: #7 Victoria, Australia
Medhurst House by Denton Corker Marshall
Australian architectural practice Denton Corker Marhall has accumulated an impressive array of landmark projects since it was founded in 1972. Past works include the Melbourne Museum, the Manchester Civil Service Centre and the Museum of Sydney.
In the face of these huge public projects, a residential build may seem somewhat less grand. Medhurst House however, is equally forward thinking in its cutting edge design. It was built during John Denton's time as the first State Architect for Victoria (a role intended to promote good building design) and is situated in the rolling vineyards of Medhurst, Victoria's Yarra Valley. The most striking element of the design is its streamlined appearance, the result of two identical 50 metre black horizontal roof and floor plates, between which sit the recessed facades of the main body of the building. Perpendicular to the plates are a series of concrete blade walls which form the structure's base on one side, while the other side of the house sits directly on the hillside.
The lower levels accommodate parking, a wine cellar and guest bedrooms as well as a study with views of the vineyards. Upstairs a continuous corridor stretches the entire length of the building and central living areas open onto an upper-floor terrace with an outdoor swimming pool.
The firm's most recently completed design sees a return to its large-scale works with Tower 1 in Singapore's $S1 billion Asia Square project. Tower 1 is located in the centre of a commercial and retail development in Singapore's new business and lifestyle district at Marina Bay and was formerly opened by Singapore's former Prime Minister Goh Chok Tong last month.