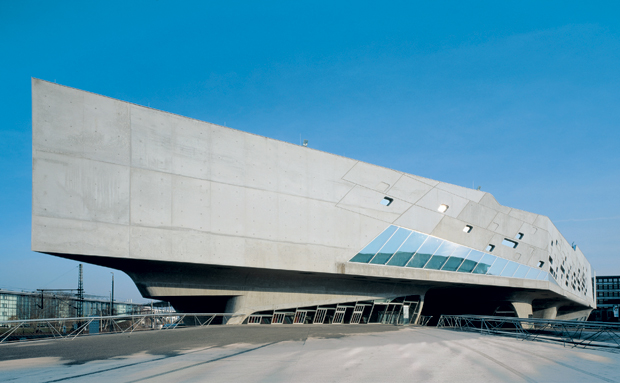 The 12 Days of Architecture: #1 Wolfsburg, Germany
Phaeno Science Centre by Zaha Hadid Architects
Zaha Hadid's Phaeno Science Centre in Wolfsburg, Germany is the link in a chain of important cultural buildings designed by prominent twentieth century architects including Hans Scharoun and Alvar Aalto.
A new city founded in 1938, Wolfsburg is home to Volkswagen but, more recently, has started to make its way as a high-tech city with a population of 125,000 people. The Phaeno, built in 2005, straddles the two sides of the town - the industrial zone with its cars plants and the residential area where many of VW's workers live. In the main gallery space of this hugely interractive science museum Hadid has created an artificial crater-like landscape which allows diagonal views across the different levels of the exhibition areas. The 'cones' that the building sits on become the craters inside, creating a link between exterior and interior.
Hadid describes the interior as an "architectural adventure playground" and "the most ambitious and complete statement of her quest for complex, dynamic and fluid spaces."
A secondary, but no less important function of the building is as a link between the rest of the architecture in the area as Hadid's website describes: The Phaeno is "a connecting link to the north bank of the Mittelland Kanal - Volkswagen's Car Town. Multiple threads of pedestrian and vehicular movement are pulled through the site both on the landscape outside as well as inside, through the bulding, effectively composing an interface of movement paths."
Following the construction of the Phaeno, Hadid has completed many award winning projects such as the MAXXI: Museum of XXI Century Arts in Rome and the Evelyn Grace Academy in London, which both won the architect the RIBA Stirling Prize in 2010 and 2011 respectively.