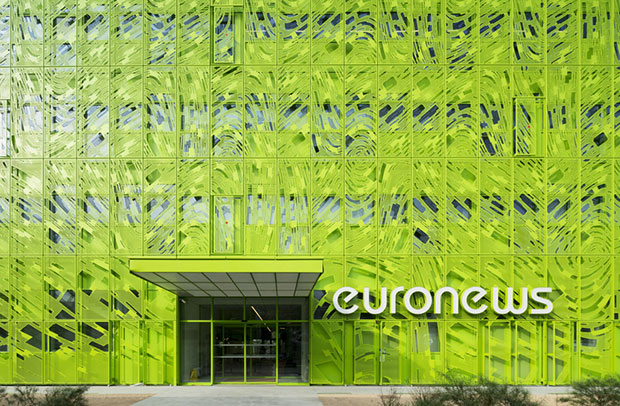 The grass is greener at new Euronews HQ
The colour of Jakob + Macfarlane's new HQ for news channel references the nearby river (so don't eat the fish!)
Some news broadcasters love to make a splash with their premises. Al Jazeera's London outfit now resides in Renzo Piano's Shard, though on the relatively humble 14th floor. Euronews, on the other hand, has got a who new global headquarters in the French city of Lyon.
"Since beginning operations in Lyon in 1993, Euronews has never been so visible," says the broadcaster. This is something of an understatement, as the organisation's new home is a perforated acid-green cube with two large holes cut out of it.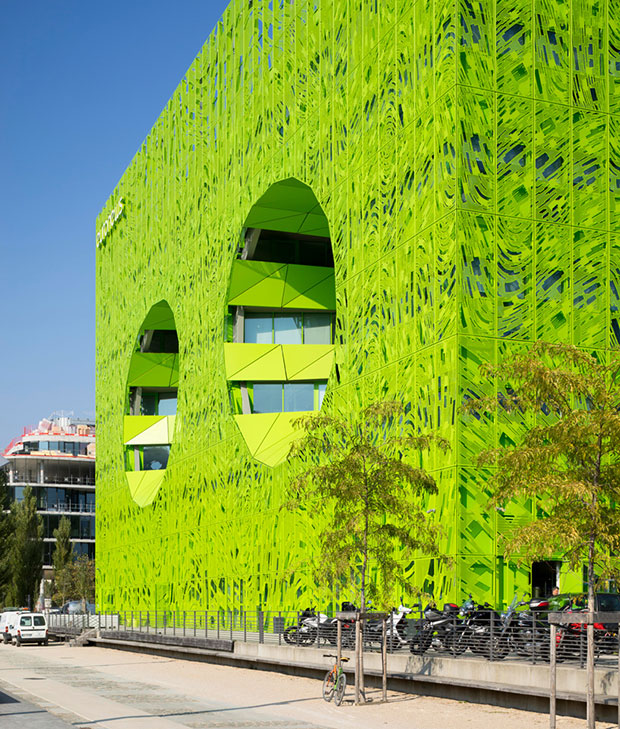 The building by architects Jakob + MacFarlane is in the Confluence, a newly developed area on abandoned dockland, where Lyon's two major rivers meet.
The two circular voids in the six-storey building are described as eyes by the architects, and serve two purposes. On a practical level they let light into the building, and symbolically they allow the news channel to view all that's happening out there. The pattern of the perforations in the aluminium cladding is the work of French artist Fabrice Hyber. Those perforations allow more light through the glazed façade and into the workspaces. The colour is intended to reference the colour of the river – which might seem rather optimistic to some viewers.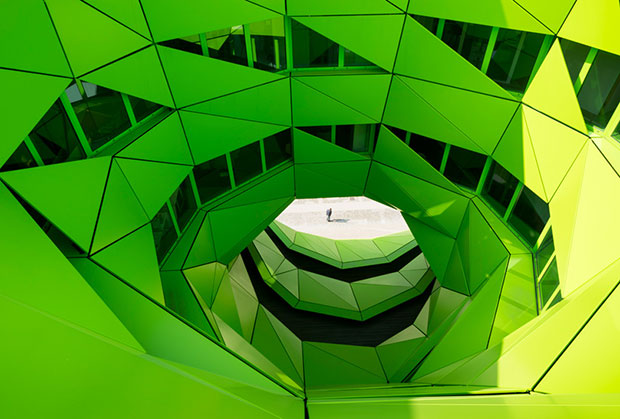 Until this month's relocation, Euronews's 800 Lyon staff were operating out of an unassuming building on the outskirts of the city. But the bosses thought it was time to move to somewhere "modern and spacious".
Their Confluence home has twice as much working space, accommodating Euronews's 13 language services.
Over the years, the Paris architects' projects have become increasingly surreal in 2010 there was the Orange Cube (an orange cube just down the river from Euronews) and in 2013 they completed the funnel-like FRAC Centre in Orléans. For more eye popping architecture of the colourful and less colourful kind check out the pages of our beautiful architecture books.