Snøhetta's landscaping of Times Square is a hit
Norwegian architecture practice of the moment landscapes iconic New York area to great acclaim
New York has become the latest city to bite the bullet and oust cars in favour of pedestrians. The NYC Department of Transport entrusted the star Norwegian practice Snøhetta with $55m to transform Times Square.
The area in question is known as the Bowtie. This is the centre of Times Square's theaterland, with Broadway on one side and 7th Avenue on the other. Until the DoT closed it off to traffic in 2009 in a test run for this major scheme, vehicles ruled.
The architects were briefed "to upgrade crucial utility infrastructure; provide event infrastructure for new and expanded public events; and make permanent the temporary improvements that the city piloted in 2009".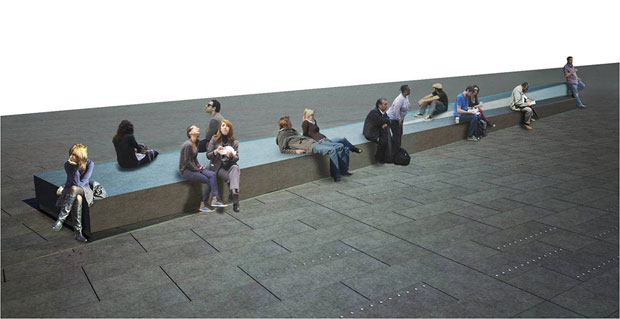 DoT commissioner Janette Sadik-Khan says "There were seventy pedestrians for every ten cars in Times Square, but cars were louder and more catered to. The balance was in the wrong direction."
So as well as getting shot of vehicular access, the architects and landscape designers at Snøhetta have worked wonders with paving and street furniture. They've created a "cohesive surface from building front to building front made of pre-cast concrete pavers in two tones. Some of these are inset with lines of nickel-sized steel discs, which reflect the neon bouncing off the billboards and signage. Londoners have seen this sort of embedding used to good effect at Duke of York Square off the Kings Road by landscape architects EBA back in 2000.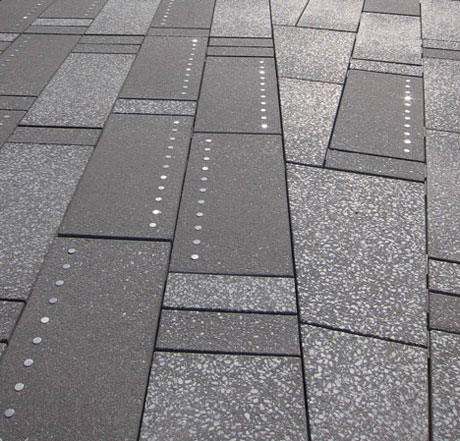 Meanwhile, there are now ten granite benches sunk into the paving and positioned along Broadway. "These benches will act as a magnet for visitors, create an infrastructural spine for events, and provide a clear orientation device for tourists and locals alike," say Snøhetta.
Since the pilot scheme in 2009, revenues from businesses in Times Square have risen 71 percent, according to Sadik-Khan. Who knows what untold sales increases may be round the corner now. You can see many more examples of interesting architectural work - including more projects from Snøhetta in the Phaidon Architecture Travel Guide App.