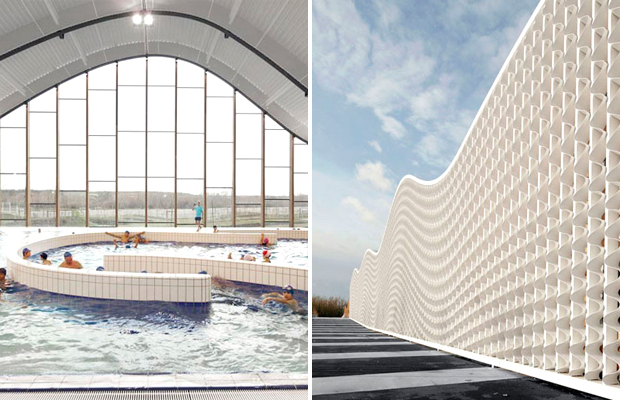 Agence SEARCH makes waves on the Seine
Up and coming French architecture practice completes swimming pool complex just east of Paris
While no doubt all eyes will be on the Olympics sports centres in London this summer, some equally exciting sports-related architecture is going on across the channel. Take a look at French architecture firm Agence SEARCH's new project Aqualade, a watersports facility in Mantes-la-Jolie, just east of Paris.
Housing three swimming pools under its rippled roof, Aqualade blends pleasingly with its surroundings. A large glass façade, which sits under one of the building's biggest roof curves, allows swimmers an enviable view towards manicured parkland and the river Seine beyond.
Aqualde replaces three high-rise buildings (demolished in 2006 to make way for it) on the Val-Fourré public housing estate. The design and presence of the buidling is tasked with blending cityscape and landscape, creating a new image for the previously stigmatised Val-Fourré estate.
"Welcoming and convivial, it is a space for sports and fun, and a nice place to stroll. It sends a good impression of the neighbourhood beyond its borders," Agence SEARCH says.
The company was founded by Caroline Barat and Thomas Dubuisson in 2004 and just one year later it was awarded the commission to build Aqualade. This commission looks to be the beginning of a very busy time for the young architecture firm, it has since designed the scenography for an exhibition at François Pinault's Garage in Moscow and won the competition to design elements of the Louvre Museum's new lobby space and the renovation of the Beaugrenelle shopping centre in Paris.