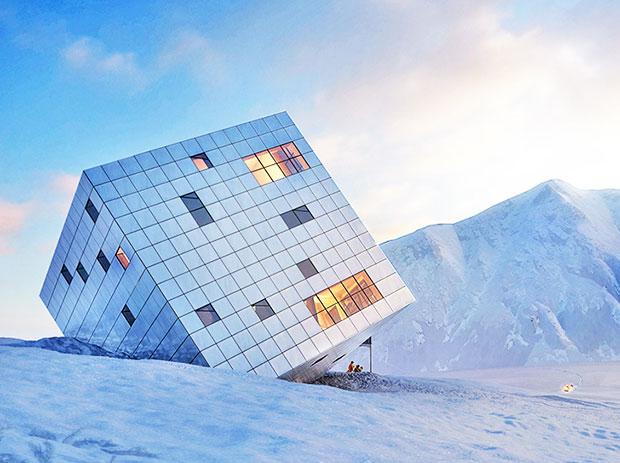 Ice cube refuge proposed for Slovak mountains
Atelier 8000 joins the likes of Hadid, Zumthor and Fantastic Norway in proposing eye-popping mountain retreat
The ski slopes of Europe are being peppered with some highly original architecture. Zaha Hadid's ambitious museum building in the Alps of South Tyrol in northern Italy is under construction. Meanwhile, Swiss architect and Pritzker Prize-winner Peter Zumthor has built Oberhus, a lodge for himself and his wife near the hillside town of Vals in Switzerland. And architecture firm Fantastic Norway's sleek modern Mountain Hill Cabin in Sjoga, Norway, has a roof that slopes right down to the ground.
These have been joined by a Czech proposal for a mountain hut in Slovakia's Tatra Mountains. The giant cube sits precariously on the edge of a peak, as if it's about to tumble down the mountainside.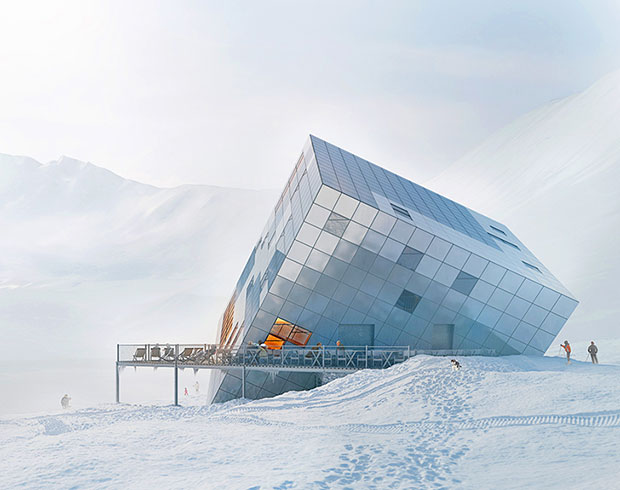 The architects, Atelier 8000, say the angle "aims at inducing a feeling of lightness and randomness in the observer" and that the laminated building looks as if it were left behind by a retreating glacier. With the angled floors and ceiling, inside it would resemble Piet Blom's 1970s fun-but-awkward Cube Houses in Rotterdam.
The building's aluminium facade is covered in photovoltaic and glass panels along with metal plating. The interiors contain a snowmobile garage, staff entrance, ski storage, drying room and restroom, all in the basement. The ground floor houses the restaurant and deck, and sleeping quarters are on the upper floors.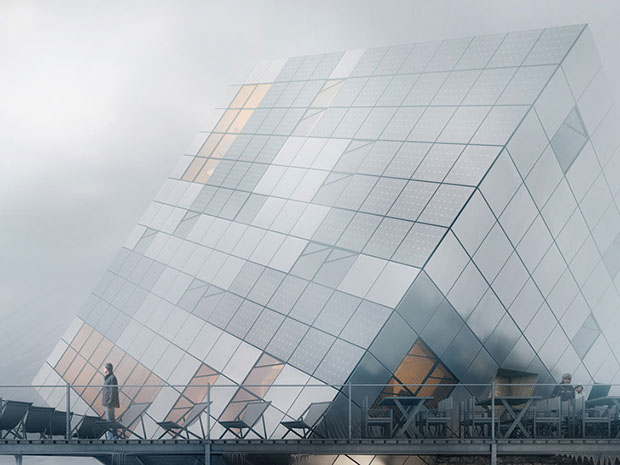 Atelier 8000 entered their concept in a competition run by the civic association Kežmarská Cabin, which aims to promote responsible tourism in the Tatras, and to restore the famous Kezmarskej refuges around White Mountain Lake.
Sadly while Atelier 8000's entry turned plenty of heads, it didn't scoop first prize. That honour went to a more conventional barn-like design by Karel Havliš, Filip Havliš, David Locksmith, and Ondřej Novosad. If yoiu prefer your architecture built, you'll find plenty of great examples in the online Phaidon Atlas. Click here for a free trial. Or check out our range of architecture books in the store.