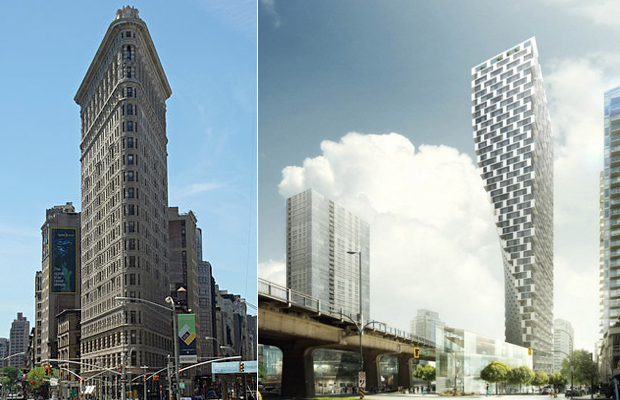 Vancouver tower channels spirit of the Flatiron
BIG architects' Beach & Howe building 'swerves' away from the noise and exhaust of the nearby Granville bridge
Copenhagen and New York-based architects BIG say their new 49-storey Beach & Howe residential tower in Vancouver channels the spirit of New York's iconic Flatiron Building. In common with the Flatiron, the building is not the result of idiosyncratic design but the architectural necessity of a trisected site and the concerns for neighbouring buildings, spaces and, of course, the needs of its future residents.
The twisted form of the tower is set back 30 metres and twisted to prevent windows and balconies overlooking a nearby motorway bridge and to allow sunlight into a nearby park. As the tower ascends it clears the noise and exhaust fumes of the adjacent Granville Bridge.
"The silhouette has a unique appearance that changes from every angle and resembles a curtain being drawn aside, welcoming people as they enter the city from the bridge," says Bjarke Ingels, founding partner of BIG. "This movement turns the inefficient triangle into an optimal rectangular floorplate, increasing the desirable spaces for living at its top, while freeing up a generous public space at its base," he explained.
You'll find more examples of innovative, cutting edge architecture in the Phaidon Atlas of 21st Century World Architecture. And for another look at an architect who sees things in a different way to most others check out John Pawson's wonderful A Visual Inventory.