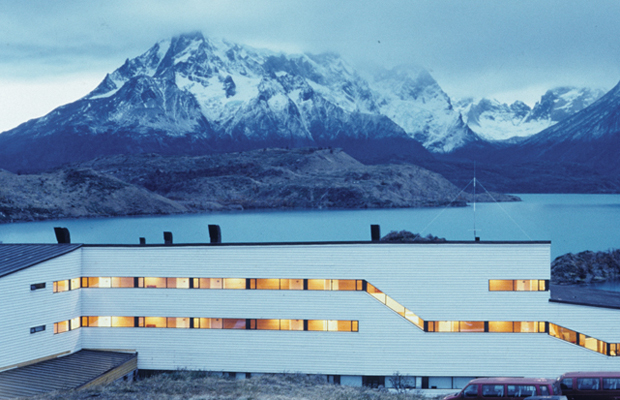 Germán del Sol - the Chilean architect in profile
Colin Barraclough on the man who brought design-minded architecture to some of Chile's most remote terrain
The Viña Seña vineyard sits high in the Aconcagua Valley, an hour's drive north of Santiago, its terraced slopes of cabernet sauvignon and merlot vines overlooking a valley of orchards and rose nurseries. It is bounded on three sides by scrub-covered coastal mountains; on the fourth, just visible on the horizon, is the soaring peak of Cerro Aconcagua, the highest mountain in the Americas.
"Before, there was just one possible view from here - the obvious vista down the valley," says the architect behind Viña Seña, Chilean-born Germán del Sol Guzmán (better known simply as Germán del Sol). "The difficulty is that Aconcagua is just too far away to visualise properly. We put in a terrace from which the nearer slopes are visible in great detail, something that allows one, in turn, to truly imagine Aconcagua."
Sure enough, from the terrace outside the vineyard's tasting room the eye is drawn unbidden to the nearby nameless ridges and only then to Aconcagua's landmark peak. "In a sense we have created a view that didn't exist," says del Sol. "The building allows the view to happen."
The deceptively simple process of moulding a building to its surroundings is typical of del Sol, whose work includes some of Chile's most idiosyncratic hotels, vineyards and thermal spas. In 2006, after winning prizes for Patagonia's Hotel Salto Chico, Hotel de Larache in the Atacama Desert and Termas Geométricas, a hot spring complex in Villarrica National Park, he was awarded Chile's highest accolade for an architect, the Colegio de Arquitectos de Chile's National Architecture Prize.
Del Sol trained at Barcelona's Escuela Técnica Superior de Arquitectura and stayed on in Spain throughout the 1970s to gain practical experience. Obsessed with order and purity - his early designs were devoid of light switches and electric sockets - he began to accommodate practicality after three years at Richard Elmore Design in Palo Alto, California. "I started to develop ideas that were freer, more fluid; designs that allowed a certain architectural confusion to remain," explains del Sol. "Today, after 35 years' development, I've reached the point where I can leave wooden beams and struts crudely cut and untreated, not even sanded or planed."
After returning to Chile in 1986 and setting up a studio with school friend José Cruz, del Sol conceived an idea for Explora, a tourism concern that would take design-minded architecture to some of Chile's most remote terrain. In the end, del Sol ran the company himself for nearly a decade, its first two hotels helping cement his reputation as one of his country's leading architects. Hotel Salto Chico, which he co-designed with Cruz, sparked controversy when it opened in 1993, largely for bringing bold design into the heart of Patagonia's Torres del Paine National Park. Five years later, after parting ways with Cruz, del Sol unveiled Hotel de Larache, an elegant, contextual project that sprawls luxuriously over 17 hectares outside oasis town San Pedro de Atacama. Both projects showcase del Sol's desire to reinvigorate Chile's indigenous traditions, yet not always in obvious ways. In a conscious decision to update local tradition, del Sol used concrete, not adobe, for the walls at Hotel de Larache. "To be a vital, thriving thing, heritage or tradition has to be brought into the present," he says. "My grandmother used to say that following tradition does not mean I should continue to use my grandfather's hat; rather, it means buying a new one, just as he would have done."
After leaving Explora, del Sol completed 72-room hotel Remota in 2006, a work he rates among his most satisfying. Set in bucolic Patagonian surroundings, the building hits the visitor with an almost physical shock, its blackened wood-and-felt exterior threading across the lush earth in a harsh, dark band. By forcing the viewer to examine his understanding of natural landscape and its connection to human habitation, the project epitomises all that del Sol sets out to do. "Landscape is a concept that we each carry around within each of us," he says. "It just remains to unlock it, and that is the role of the architect."
Colin Barraclough is a freelance travel writer