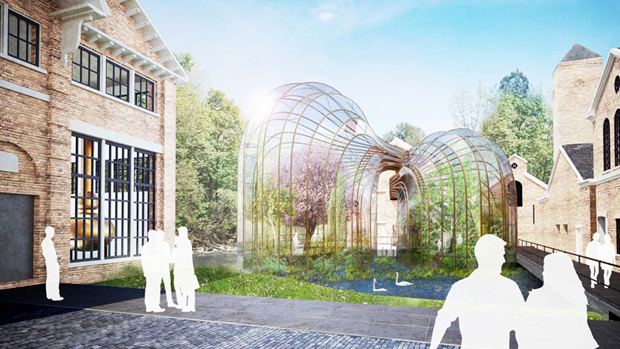 Olympic cauldron designer Thomas Heatherwick on his latest project for Bombay Sapphire gin
From seed cathedral to Olympic flame to 'gin palace' visitor centre, the designer continues to dominate
Olympic cauldron designer Thomas Heatherwick has revealed plans for a distillery and visitor centre for gin brand Bombay Sapphire at an abandoned mill in Hampshire, England. Construction has already begun on the site, which will include two curved greenhouses for growing the ten botanical herbs and spices that Bombay Sapphire uses to flavour its spirits. Named Laverstoke Mill, the centre will open a year from now.
The project is a multi-million pound restoration of the historic buildings on a two hectare brown-field site, near the grounds of Laverstoke Park, 60 miles from London which housed one of England's most significant bank note paper making facilities. The highlight of the complex build is the glass house for Bombay Sapphire gin's 10 botanicals. The designer previously worked with Kew Gardens cataloguing and curating the genus of UK plantlife for his 'Seed Cathedral' UK pavilion at the Shanghai Expo in 2010.
"As the particular flavours of Bombay Sapphire gin are derived from ten botanicals, the centrepiece of the site is a glass house, within which visitors will experience the specific horticultural specimens infused in the spirit," says Heatherwick. "The glass house, influenced by Britain's rich heritage of glass house structures, will be two separate structures providing both a humid environment for spices that originate from the tropics, as well as a dry temperate zone for Mediterranean plants."
The video we've embedded below is a little bit corporate but if you want to skip the chap in the hard hat, Heatherwick appears at around the 1.40 mark.