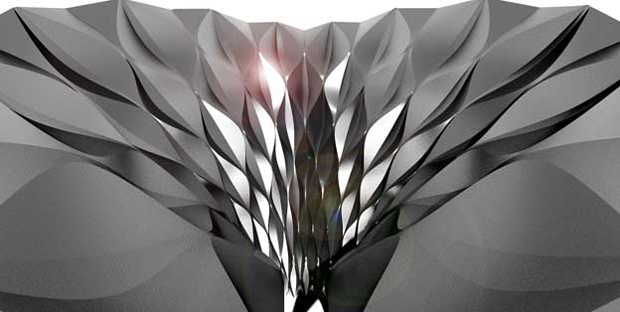 Zaha Hadid praises Olympics architect Frei Otto
Hadid's Arum installation at Venice Biennale pays homage to pioneering work of Munich '72 architect
Zaha Hadid is looking back in order to go forwards in Venice. Visitors to this year's Beinnale are getting a unique insight into the practice's inspirations via its metal, funnel-shaped installation, Arum. As has been noted elsewhere Hadid's early work was inspired by Russian Suprematism. In her installation and exhibition at the Biennale the architect wants to highlight the connection to a historical strand of research.
In their own words: "The more ZHA's design research and work evolved on the basis of algorithmic form generation, the more the architects learned to appreciate the work of pioneers such as Frei Otto who achieved the most elegant designs on the basis of material-structural form-finding processes.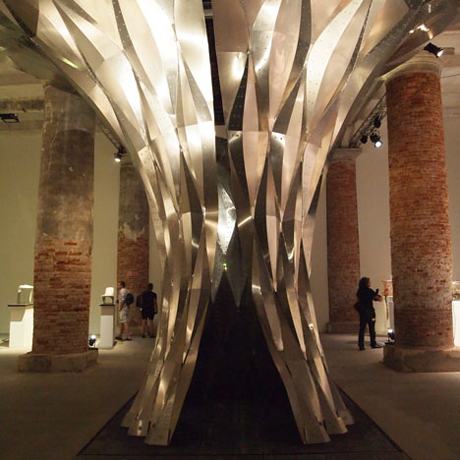 "From Frei Otto ZHA learned how the richness, organic coherence and fluidity of the forms and spaces ZHA desire could emerge rationally from an intricate balance of forces." Otto is the world's leading authority on lightweight tensile and membrane structures and famously created the roof of the 1972 Munich Olympic Arena. One particular area of research Zaha Hadid Architects are exploring with its installation is the domain of light-weight shells in combination with tensile structures. Zaha Hadid Architects have already designed a number of complex shells as well as some tensile structures. The Arum shell is an installation made from pleated metal.