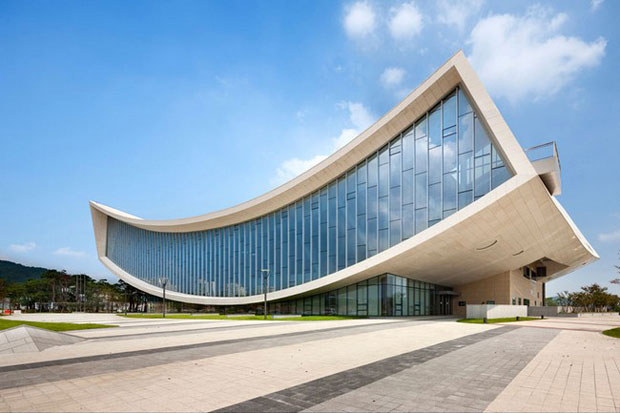 Korea's National Library gets an outpost by Samoo
When is a library not a library? Apparently when it's an E-brary', a compound of 'emotion' and 'library'
Where once architects were falling over commissions for 'mixed-use developments', aka a block of flats with some chain shops and chain restaurants below, now the trend is cultural destinations. A subset of this category is the library, and it's getting to the stage where every decent architect has at least one such building to his or her name.
To recap: UK-Iraqi firm AMBS Architects has designed the first public library in Iraq since the 1970s, while Helsinki Central Library is by ALA Architects, Birmingham has got one by Mecanoo, Herzog & de Meuron are doing one in Israel, Queens in New York has a Snøhetta library, and David Adjaye has created two others in the US.
Now Samoo Architects & Engineers, which has its studio in New York's New York Times Building, has created a branch library of the National Library of Korea. This construction is in the administrative city of Sejong City, and as such it will act as a key resource and support centre for Korea's newly relocated central government complex.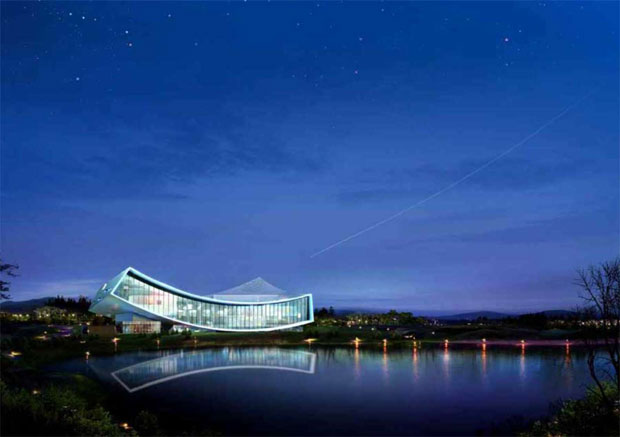 While its asymmetrical upward curve is designed to imply the turning of the page of a book, this library has multi-platform intentions. It's being billed as an 'E-brary', a slightly clumsy compound word of 'emotion' and 'library'. For, like many a similar buildings of the last few years, this one is hoping to happily marry the digital with the analogue.
Readers will be welcome at the end of the year, when all four above- storeys and two below-ground storeys will be ready and stocked. Actually, even casual visitors will be welcome, as the top floor will boast a restaurant and viewing platform, while the underside of those curves doubles as a public plaza.
Remember, if you're planning a visit to an architectural destination in the near future make sure you download a copy of our great new Phaidon Architecture Travel Guide App before you set off.
While most travel apps tend to point you towards a budget hotel or tell you the way to the airport only Phaidon's Architecture Travel Guide (available now for the iPad, iPhone and iPod touch) can tell you where you'll find the most important new buildings, wherever you may be in the world. From innovative Ethiopian tree houses through to Malibu's glass-skinned mansions, by way of galleries, offices, stations and flagship stores, you'll never be without something to gawp at admiringly. Read more about it here.