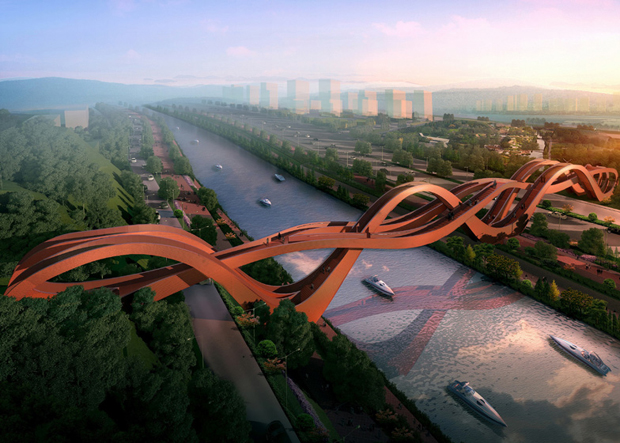 Next Architects' Mobius-like Chinese bridge
The Dutch practice says its pedestrian bridge design draws upon decorative Chinese folk art
Only in China, a country with space to spare and an insatiable thirst for statement architecture, could a concept like this get approval. And yet, intriguingly this pedestrian bridge, which has won first prize in an international competition for Changsha, the capital of Hunan province in China, is the work of a bunch of northern Europeans.
NEXT Architects dreamt up this design, which will cross the Dragon King Harbour River in the new Meixi Lake district of Changsha. This purpose-built addition to this sizable Chinese city, covering 6.5m square metres, is being overseen by US architects Kohn Pedersen Fox. Part KPF's plan consists of a river park, hence the need for a leisurely footbridge.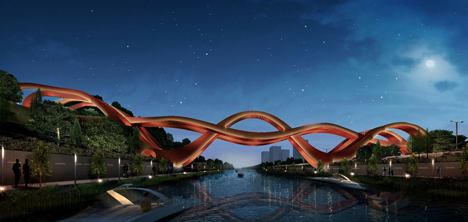 NEXT has had some fun with it by creating three 'lanes' of different undulations, which borrow from the infinite Möbius loop idea; the steel ribbon curves back round on itself.
However, like all site-specific architecture, this one too gives a nod to cultural references. Architect John van de Water explains that the shape "refers to a Chinese knot that comes from an ancient decorative Chinese folk art". The studio's hope is that, with its eye-catching form, the bridge will give Meixi Lake a sense of identity.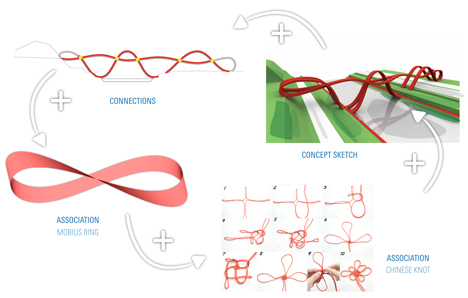 For more on this project, go here. For a greater understanding of Chinese folk art, as well as contemporary works, take a look at our Chinese Art Book, and for further insight into new architectural projects around the world, take a look at our Architecture Travel Guide app. Buy them from the people who made them, here.