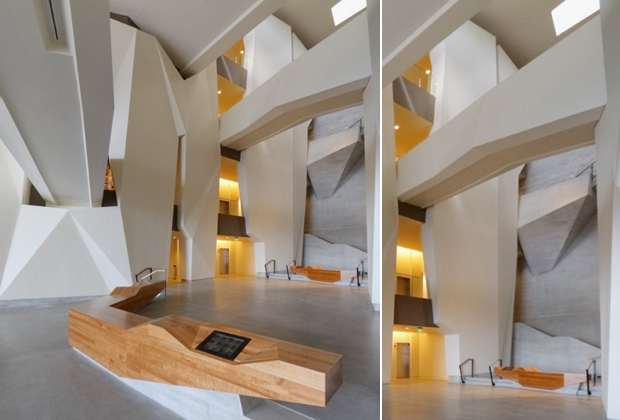 A museum at one with nature
New York architects Ennead harness Utah landscape for new Natural History Museum
In the foothills of Utah's impressive Wasatch mountain range in Salt Lake City now stands the state's brand new Natural History Museum. Designed by Todd Schliemann of New York studio Ennead Architects and delivered by local firm GSBS Architects, the angular structure mirrors the towering mountains that form the backdrop to the impressive 17-acre site.
With the copper-clad-building (which houses over 1.2 million objects and artefacts), the museum's team of designers intended to forge a relationship between the dramatic topography of the surroundings - the mineral, rock and soil deposits - and the building itself. The cavernous interior of the museum, with its high ceilings, rugged looking walls and jagged, heavy beams serve as an effective way of reminding visitors of the natural environment on the shoreline of the prehistoric pluvial Lake Bonneville that covered much of the Great Basin. The site offers breathtaking views of the Great Salt Lake, the Oquirrhs mountain range, Kennecott copper mines, Mount Olympus and Salt Lake City.
The architects say that the design "embodies the museum's mission to illuminate the natural world through scientific inquiry, educational outreach, mutual cultural experience and human engagement of the present, past and future of the region and the world." They add that "Utah's singular landscape and the ways in which humans have engaged its varied character over time were the touchstone for an architecture that expresses the State's cultural and natural contexts." We can't help but think it's time to go back and finish that history degree.