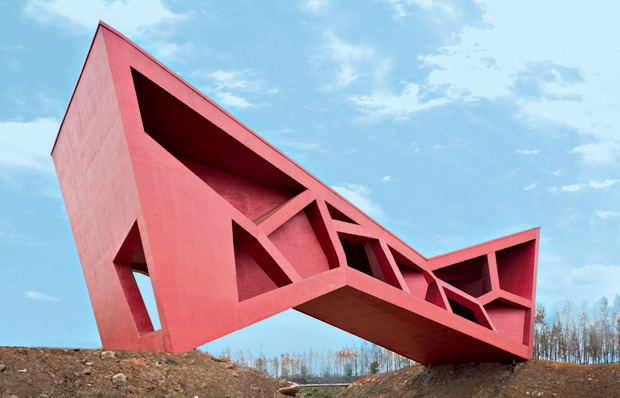 The 12 Days of Architecture: #4 Jinhua, China
Bridging Teahouse by LAR/Fernando Romero
The two staples of a traditional Chinese garden are a teahouse and a bridge. Mexican architect Fernando Romero hit upon the idea of combining the two and his Bridging Teahouse is the result. This entirely modern structure sits between pavilions designed by Herzog & de Meuron and Michael Maltzan within the Jinhua Architecture Park in Zhejiang, China.
In 2002, Chinese artist, architect and activist Ai Weiwei invited 16 architects to design pavilions for the park in the memory of his father, poet Ai Qing who was born in Jinhua. Ai Weiwei also designed a pavilion for the park.
Inside, the structure is complex, with a winding set of interconnected spaces which reference the spiral designs of traditional Chinese bridges. The colour red also evokes long-standing bridge motifs from the local area. The building is, in fact, a small scale version of a museum Romero wants to build designed to span the border of America and Mexico.
Fernando Romero founded LAR Architects in 1999 having worked as project leader on the _Casa da Musica _in Porto, Portugal for Rem Koolhaas at OMA. Together with FREE - a firm established with the ambition to address contemporary society through architecture - Romero completed the impressive Museo Soumaya in Mexico City in 2011.