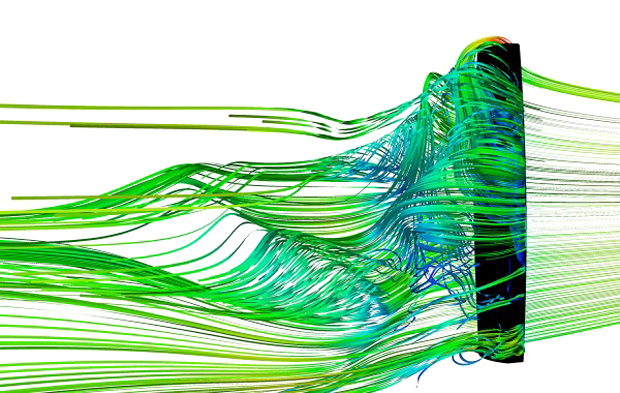 SOM create new architectural magic
Architects reveal building with ingenious remote control, energy-saving 'eye' that aids light and airflow
Chicago-based SOM (Skidmore, Owings & Merrill LLP) is the architectural practice that provided the brains and architectural braun behind the world's tallest building Burj Khalifa in Dubai, which stands at an awe-inspiring 829.84 metres (2,723 feet). Its long list of skyscraping creations includes the John Hancock Center and the Sears Tower (tallest building in the world for 20 years) in the US, as well as the Jin Mao Building, Shanghai, China. Now it's about to make another addition to the China skyline with a building that incorporates a design element that appears to resemble the eye of a giant needle.
This central 'eye' of the Greenland Group Suzhou Centre in Wujiang, China, is a huge hollow space which begins around half-way up the 358m tall skyscraper, splitting the strucure into two separate arms which come back together at the building's summit.
The hollow atrium maximises natural light penetration, facilitates ventilation in the lobbies and with the capacity to open the area completely via remote during warm weather, also acts as a fresh air supply source for the tower. Luke Leung, SOM Director of Sustainable and MEP Engineering refers to it as the building's "lung".
"The objective is to achieve a 60% savings in energy consumption compared to a conventional US high rise and a 60% reduction in potable water use," he says. "The design utilises an atrium as the 'lung' of the building to provide ventilation and will incorporate a series of high efficiency measures."
SOM was formed in 1936 by Louis Skidmore and Nathaniel Owings, John O. Merrill joining the team in 1939. It led the way in the use of the now wide-spread "glass-box" design of the skyscraper and is now one of the largest architectural firms in the USA.
According to SOM Managing Partner Jeffrey McCarthy, the commission not only embodies the company's commitment to elegant high performance but also makes "a strong skyline statement about Wujiang and its bright future."