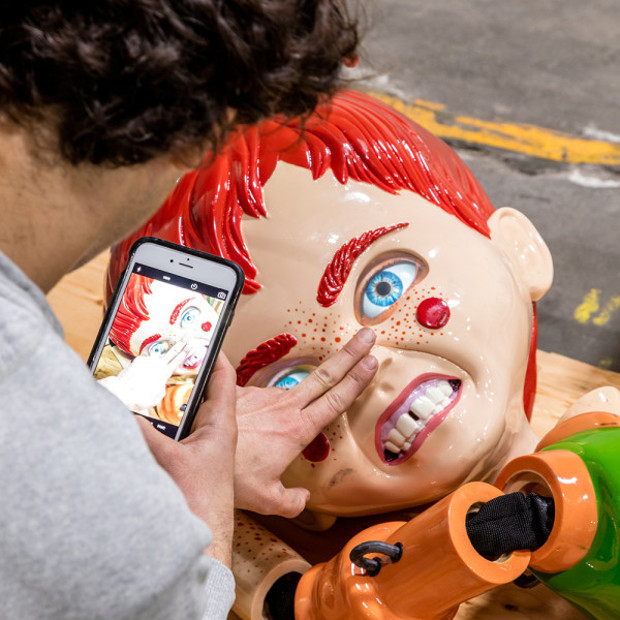 Have you seen Jordan Wolfson's new animatronic?
Why does the artist's latest sculpture look a lot like Alfred E. Neuman, MAD magazine's infuriating mascot?
It can be tricky picking out the masterpieces in contemporary art, yet Jordan Wolfson's grimy, sexy, animatronic work, (Female figure) (2014), is surely one of those in contention. The spooky animated figure, with the body of a stripper, the face of a witch and the voice of the artist himself, helped establish Wolfson a position at the forefront of contemporary art. The work was partially inspired by a trip Wolfson took with fellow artist Alex Israel to the Epcot centre at Walt Disney World in Florida, towards the end of 2012.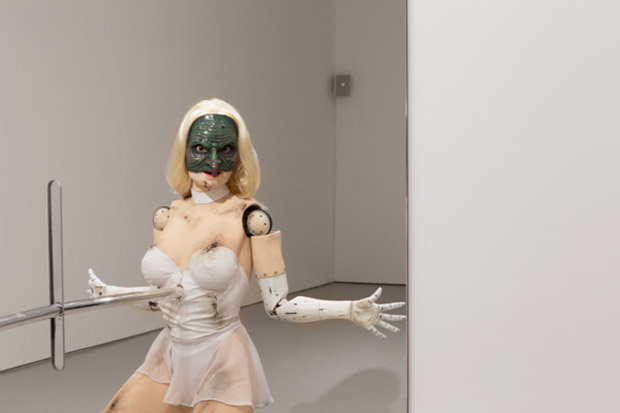 Wolfson, who had been best known for his animation work, was, at the time, contemplating a new video work, drawing on the character of Holli Would, the cartoon vamp from the 1992 animated feature film, Cool World. However, after seeing just how lifelike Disney managed to make its robots, the artist switched to a sculptural medium, creating his ghoulish girl with the help of Hollywood puppetry experts.
Two years on from that work's debut at David Zwirner in New York, Wolfson is preparing to spring another animated figure on the art world, just in time for Frieze Week - and this one promises to be just as creepy.
Colored sculpture, 2016, forms part of Wolfson's forthcoming solo exhibition, opening on 5 May at Zwirner's 525 West 19th Street gallery in Manhattan. Like its elder sister, Colored sculpture 2016 is based, in part, on cartoonish cultural precedents.
"The red hair, freckles, and boyish look of Colored sculpture draw associations to such literary and pop cultural characters as Huckleberry Finn, Howdy Doody, and Alfred E. Neuman, the mascot of MAD magazine," the gallery explains. "Highly polished in appearance, the work is suspended with heavy chains from a large mechanized gantry, which is programmed to choreograph its movements. The sheer physicality of the installation, which fills the entire gallery space and includes the work being hoisted and thrown forcefully to the ground, viscerally blurs the distinction between figuration and abstraction, while furthering the formal and narrative possibilities of sculpture."
Yet this violent, overly cute little boy also features some of Wolfson's video elements too, as well as some creepy, new animatronic treatments.
"The sculpture's eyes employ facial recognition technology to track spectators' gazes and movements," explains the gallery. "Using fibre optics, its eyes also intermittently display a range of imagery and video footage, including the artist's own animations and filmed footage, and other found visual material, all of which seem to mine the subconscious preoccupations and desires of our society and consumer culture."
Jordan's new figure might look infantile, but it sounds like he's far from innocent. For more on the show, go here; for more on Wolfson's fellow cohort of contemporary artists order a copy of The 21st Century Art Book here; and to buy works by this artist, take a look at his page over on Art Space.