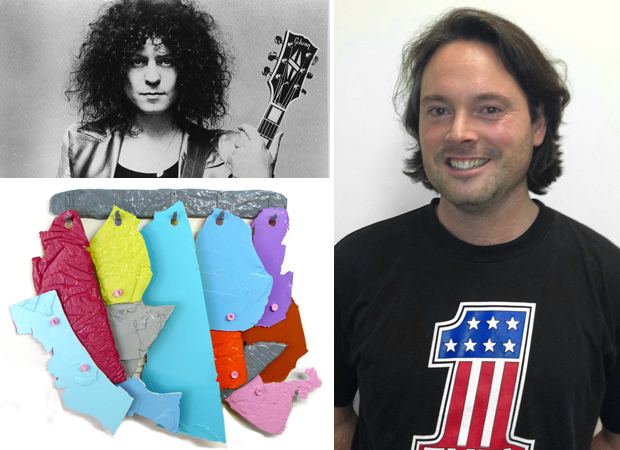 Piers Secunda's Muse Music
The sculptural painter on the music that gets him in a creative mood
It's Friday, (how did that happen?) which means it's time for another Phaidon Muse Music. Today your weekend soundtrack has been put together by Piers Secunda. For the last 15 years, Piers has been exploring the limits of what paint can do, pushing its physical properties to their limits in an attempt to make it behave like a sculptural material. Casting with paint is a big part of his work. His Taliban Relief Paintings, created from the bullet-marked wall near a Kabul suicide attack, are on show in London at the moment alongside work he created by persuading Chinese soldiers to fire their rifles at sheets of paint.
Secunda has paintings in collections all over the world - Rachel Whiteread is a collector - and has exhibited extensively in both the US and the UK. Recent exhibitions include The Lucifer Effect at Primo Alonso Gallery; Dorian Gray at Vegas Gallery and Noel Forster and Piers Secunda Paintings and Constructions at the Chelsea Future Space.
He is the son of Tony Secunda, legendary music business manager of Marc Bolan, The Pretenders and Motörhead; (and in the Sixties, Procol Harum, The Moody Blues and The Move) so it's no surprise music is a big inspiration. We've put his playlist on Spotify but before you listen to it, take a read of what he says about his choices.
"As a fundamental system of communication music has always been important to me. Realising that as a creative person you have the strength to speak your mind, and communicate without fear or concern is important. Hearing the strength and power of lyrics written by songwriters such as Bob Dylan and Roger Waters, was very compelling to me as a teenager. I realised that digging deep and saying what you think is possible, and can be done. It took several years to learn how to cut straight to the point, but that has become a part of how I function as a person as well. I feel a sense of urgency in life and seeing my father die when I was 19 kicked me into a higher gear. Hearing the music he worked on coming out of the radio of a passing car, or a shop as I walk past, always spreads a smile across my face."
AR Rahman Mumbai Theme and__ Shpongle And The Day Turned Into Night__ - I used to listen to both of these songs as taxi drivers spun me around the streets Shanghai. They're beautifully atmospheric, and a great background track to watch a mad foreign city cruising past.
Infected Mushroom Dancing with Kadafi - In spite of the bizarre name, this is an amazing piece of music, its rhythms bounce around all over the place, and vary enormously. Its more of a journey than a song, entirely instrumental, and long enough to become highly involved and absorbing. ____
Pink Floyd Pigs (3 different ones) - I spent quite a bit of time in Roger Waters' (Pink Floyd bassist and songwriter) house when I was a kid, playing with his children so this song's partly sentimental, but I go back to it every year or so and it stands the test of time. It has everything a great Floyd song could provide: drama, advice, warnings, cryptic clues, animal noises. __
__
---
Johnny Cash Highwayman - A great tune about re-incarnation, and four different lives. One story of each life is sung by: Willy Nelson, then Chris Kristofferson, Waylon Jennings and then Johnny Cash. Wonderful…a pity to never have been able to see that one live!
Toots And The Maytals True Love - You have to have (even if it's a secret that you never tell) at least one love song. This is real a reggae charmer, and optimistic too.
Space Cat C4 - An awesome dance track. I miss the days of illegal raves in the middle of vast National Forestry woods, and dancing through the dawn mist to sunrise.
Motörhead The Ace Of Spades - My father was Motörhead's first manager. When I met Lemmy for the first time after one of their concerts, he almost broke my hand, shaking it with the vigour of a steam engine crank, whilst stubbing a cigarette out on his cheek. The music had been so loud that my ears were still ringing two days later.____
T-Rex 20th Century Boy - My father managed Marc Bolan, and made him a large part of his fortune, so this song, which has always been my favourite in their catalogue, has to rank near the top for me.____
Carlos Santana Soul Sacrifice - I've seen few films of live musical performances that match this tour-de-force. Not many musicians can raise half-a-million people to a euphoric standing ovation. If you've never seen it, it's on YouTube.
---
Led Zeppelin When The Levee Breaks - It's hard to imagine a more powerful and grindingly ominous blues song, especially after the disaster in New Orleans when the word entered the public consciousness in such a big way.
Listen to Piers Secunda's Muse Music on Spotify.
You can also listen to these creatives' Phaidon playlists:
John Pawson
United Visual
Simon Fujiwara
Samuel Wilkinson
Alex Hartley
Brian Griffiths
Michele Howarth Rashman
George Condo
Martin Boyce
George Shaw
Karla Black
Mark Titchner
Chris Johanson
Edmund de Waal
Haroon Mirza
Sign up to the Phaidon newsletter to get future updates.