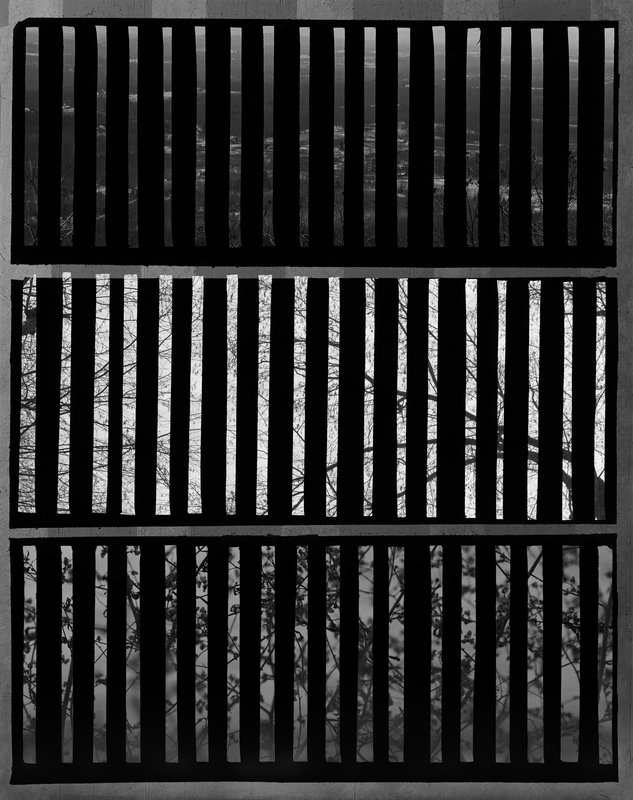 Hannah Whitaker - Affordable on Artspace
Silent landscapes, geometric illusions and abstracted textures abound in beautifully manipulated photo
The subjects in Hannah Whitaker's arresting photographic works are diverse - everything from female nudes to hauntingly silent arctic landscapes and abstracted natural textures. She captures ancient Greek marble and Hawaiian lava with the same crisp subtlety as her intimate studio portraits. However, it is not the subject matter in Whitaker's work that sets it apart, rather the process through which she manipulates, blocks, and disrupts the photographic process.
The geometric illusions in her dynamic photographs are created through a painstaking process of hand-cut cardstock, multiple exposure and various other manipulations. Using various means - often hand cut black cardstock - Whitaker creates patterns within her frames, influenced by everything from textile maker Anni Albers to the quilt makers of Gee's Bend, Alabama. Whitaker asserts that this artistic manipulation comes from a desire to explore "the relationship between what the photograph is of and what the photograph is made of."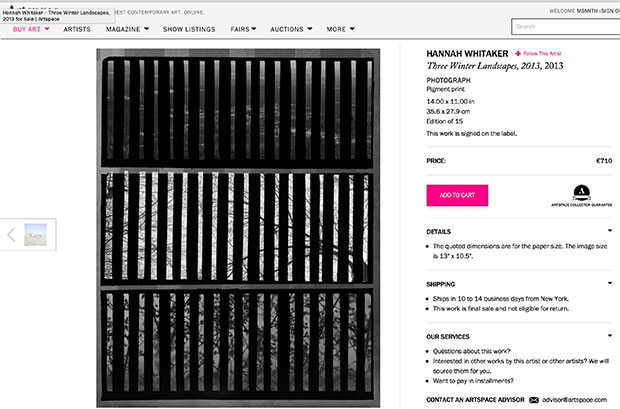 In today's Affordable on Artspace we're drawing your attention to her limited edition print, Three Winter Landscapes, in which three cage-like forms intersect three black and white images of bare-trees and stark landscapes.
The photograph measures 14.00 x 11.00 inches, (35.6 x 27.9 cms), comes in an edition of 15 and can be yours for just $800, £564 or €710. Head over to Artspace and start your collection with this great Hannah Whitaker work today.
you may like to know that Whitaker has participated in a variety of solo and group exhibitions including Thierry Goldberg Gallery, New York, Cincinnati Art Museum, Cincinnati, Tokyo Institute of Photography, Toyko, Casey Kaplan, New York, M+B Gallery, Los Angeles, Galerie Christophe Gaillard, Paris and Higher Pictures, New York.