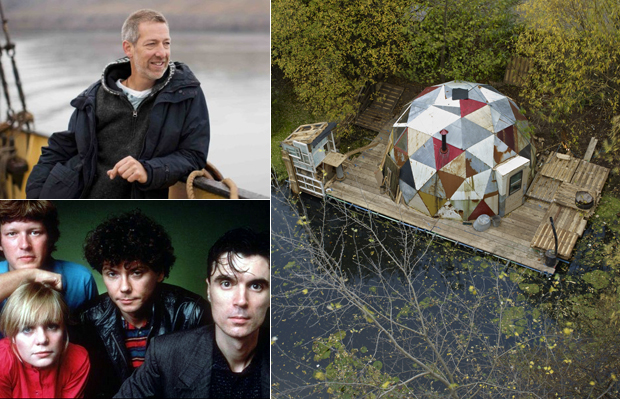 Alex Hartley's Muse Music
The Cultural Olympiad artist on the music that gets him in a creative mood
Friday's here and who better to create the first Phaidon Muse Music playlist of 2012 than an artist whose work will form part of the artistic backdrop to the Olympics this coming July. British artist Alex Hartley has chosen the music that helps him think, create and execute. We hope it will put a similarly positive spin on your weekend. Hartley's work takes many forms, existing as wall-based photographic compositions to room-sized architectural installations. He addresses complex ideas and contradictory attitudes about the built and natural environments and offers viewers new ways of physically experiencing and thinking about our constructed surroundings.
His latest project Nowhereisland (which will form part of the 2012 Cultural Olympiad and funded by the Arts Council) involves floating a sizeable landmass he has named _Nowhereisland _around the South West coast of Britain during the Olympics in July. The idea came about when Alex discovered a new island while exploring the High Arctic in 2004. With the permission of the Norwegian government (of course) Alex removed part of this island and sailed it to international waters where he declared the land mass Nowhereisland. As a real place but without a fixed location, Hartley's project encourages people to think about the notion of 'belonging' and what 'nationhood' really means.
Meanwhile, his current show, The World Is Still Big, at Victoria Miro gallery in London (until January 21) explores ideas of community, belonging and isolation, and counter culture versus establishment through sculpture (one of which is a life size tent half caught in a snow drift) as well as new photographs made unique through the addition of intricately detailed sculptural interventions of scaled architectural models built directly into the surface of the prints.
Hartley has exhibited nationally and internationally with shows at the Fruitmarket Gallery, Edinburgh (2007), Natural History Museum (2006), Distrito Cuatro, Madrid (2003), The National Museum of Art, Osaka, Japan (2001) and the Louisiana Museum of Modern Art, Denmark (2000).
You can listen to his Muse Music playlist on Spotify and iTunes, but first, have a read of how music has influenced his life and art:
"I listen to music in the studio in order to set, or to stretch and prolong the mood for the works I'm making. Some of the recent works that I've just completed have strong narratives; complex constructed back-stories to the photographs, possibly only evident to me - but stories that somehow give a depth to the work. I find that certain music, when matched to this narrative, really helps me build the mood into the finished piece. I reserve listening to music for when I'm alone, and it's always been important to me that I can play it loud and not worry about disturbing others. I choose the space I work in, to some extent based on an attempt to make a fully sealed private arena, a place without external influences, and this means I can control the atmosphere of the workspace depending on the task at hand. I've never been able to really get along with MP3 players. They are still too outside of the body for me, with annoying wires and a barrier to the world created by the headphones. I prefer to use music to match and recall landscape once I'm back in the studio, and I seem more able to access this relationship once I'm in the sealed, aspectless space. As a playlist this won't run that well, as the choices embrace all the moods that I need to make work, but pick and choose depending on how you feel."
__The Beta Band _Dry The Rain (Live At Shepherds Bush Empire) - ___ John Maclean from the Beta Band was at the RCA when I was there. When they played this track live the energy created was truly amazing, and it has stayed with me. The manic swapping of instruments and the bounding around the stage and the music itself. I can use this energy to get motivated. I do have some help in the studio, but I'm always happiest when I'm there on my own, and it often takes a track like this to get me up and working.
__Johnnie Clarke _Move Out A Babylon - ___ There are times when only Reggae will do. I find it particularly good for when I have to do some repetitive, system-based activity. The cutting and painting, of multiple components. I chose this one as it was on the first Gaz's Rockin' Blues C90 compilation tape I bought at Camden market in 1984. I still have it, although it's slightly chewed.
__Talking Heads _The Big Country - ___ I really could have just chosen 10 Talking Heads songs for this list. Many of my titles come from David Byrne lyrics, and although I've been constantly listening to their music since the 1980's I've still no idea what any of it is meant to mean. I love the sense of big open landscape and solitary isolation, and because I don't know what he's on about, I can endlessly recreate narratives within the lyrics to fit the mood I need for the work at hand.
__David Bowie _Memory Of A Free Festival - ___ Tania, my partner, and I took our child out of school in 2005 and went travelling and gathering photographs in South America for six months. After a few weeks, I fried the communal iPod with a dodgy Argentinian charger. In a tiny southern town we eventually found an export shop for foreign oil workers, where they had a dusty selection of 25 incredibly expensive CDs. We chose two each and these became the constant epic soundtrack within our truck for the remainder of our time. Having so few tracks (a best of Led Zeppelin, a best of Radiohead, a best of David Bowie etc:) and being in such enormous landscapes, the songs have become linked to frozen moments of memory. This somehow echoes with the photographs I bought back and which I have spent the last year working on. This Bowie track was about the only one I could bare to listen to by the end.
__Bob Dylan _Stuck Inside Of Mobile With The Memphis Blues Again - ___ Another track where the protagonist doesn't quite know what's going on. There's a sense of bemused isolation, of disjuncture with the world that I can readily identify with! Beautiful stuff is happening, but I don't understand how it affects me.
_Hildegard von Bingen A Feather On The Breath Of God - ___ Two months ago I returned to the Arctic as part of a project I'm making during the Cultural Olympiad (Nowhereisland). I can so rarely match the mood of a landscape to music. I can use music to recall the landscape later, but more often that not I'll have to turn my iPod off in slight irritation. These hymns and sequences recall for me the magnificence and majesty of the Arctic landscape we travelled through, and our smallness and vulnerability within that realm. A moment when I did manage to create the right soundtrack for the experience.
__Joni Mitchell _A Case Of You - ___ An exiled love song recalling a landscape of the heart.
__Boyoyo Boys _Daveyton Special - ___ Just boundless pleasure. If my relationship with the studio is a battle sometimes to get up off a chair and actually do work, then this is the track to force me up and to get going. I love late night working most of all, absolutely no one around and a looming deadline – and this totally unrelenting album has provided the necessary motivation on more than one occasion.
__Lou Reed _Sad Song - ___ As part of the rhythm of my studio practice, I've always needed to be able to wallow in moments of depression. The album Berlin has been a work companion for 20 years. It's awesomely depressing and utterly brilliant, denying salvation or solace in relationships of any kind. A great way to dismiss the outside world and somehow a perfect partner for a certain self-indulgent mindframe. Perfect for late at night, or when everyone else is out having fun and you still have to work.
__Etienne de Crecy _3 Day Weekend - ___ Another track that transports me to an exact time and place. I love that the memory can so easily be recalled.
Listen to Alex Hartley's Muse Music playlist on Spotify or iTunes.
You can also listen to these creatives' Phaidon playlists:
John Pawson
United Visual
Simon Fujiwara
Samuel Wilkinson
Brian Griffiths
Michele Howarth Rashman
George Condo
Martin Boyce
George Shaw
Karla Black
Piers Secunda
Mark Titchner
Chris Johanson
Edmund de Waal
Haroon Mirza
Sign up to the Phaidon newsletter to get future updates.