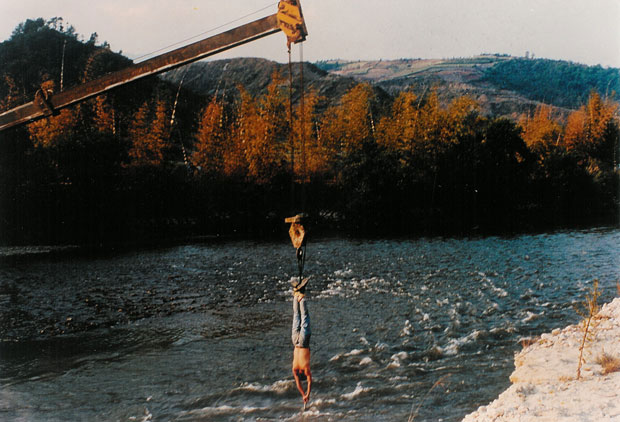 The extreme performance art of He Yunchang
Physical endurance, self mutilation and the removal of a rib - The Chinese Art Book has the story
The beauty of The Chinese Art Book is that it shows the reader new to Chinese art in particular not just the extent and variety of that country's art history, in calligraphy, painting, ceramics, figurines but also how active is its contemporary scene, in which photography, video, installation and performance art all figure. By pairing old and new works on opposing pages, this collection offers some illuminating, often ironic but always telling juxtapositions.
Take Dialogue With Water (1999) by one of China's most extreme performance artists, He Yunchang. The artist is renowned for acts of physical endurance, often involving self-mutilation, including on one occasion, the surgical removal of his own rib. For this piece, He Yunchang hoists himself upside down by a crane above the Liang River, in Yunan. Prior to being suspended, he has had a local butcher cut two single centimetre incisions into his upper arms. Using the same knife with which he was cut, he cuts into the water as he hangs just above it, as blood from his arms drips into the river, mingling with the fast flowing current. This, he does for 30 minutes, leaving, by the artist's calculation a "cut" of 4,500 metres in length in the river.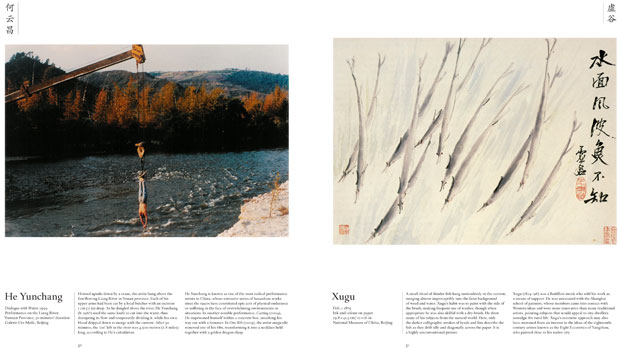 Placed opposite an image of the suspended Yunchang is the Buddhist monk Xugu's Fish (c.1875), a work that would itself have been considered highly eccentric in its own time. It's wispy, skilful ink rendering of a drifting shoal of fish hanging in the current, merging against the faintest suggestion of weed and water. This coupled with the shape cast by the vertically suspended fish, prefigures uncannily Yunchang's work, and its preoccupation with difficult and overwhelming environments.
If you're intrigued by this clever juxtaposition you'll find many more in The Chinese Art Book. You can learn more about the book by reading an interview with its editor Diane Fortenberry here. You can see some more pictures from it here and when you've done that why not buy it from the people who made it here.