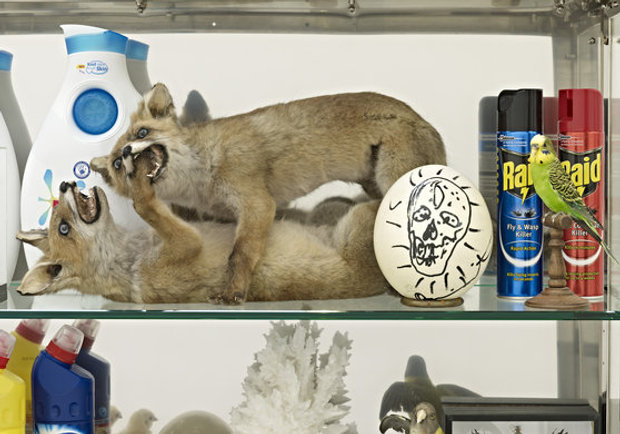 What has Damien Hirst put in his new cabinet?
Butterflies, eggs, bleach and a lot of stuffed animals. If you're in Paris soon, you can see for yourself
Deyrolle, as you may know, is a famous Parisian naturalist shop and exhibition space. Founded in the 19th century, it was patronised by Salvador Dali and Andre Breton, as well as latter-day artists such as our very own Nan Goldin.
Now, Damien Hirst has drawn from Deyrolle's shelves to create his 'wunderkammer' or cabinet of curiosities. If you're over there soon you can take a look at it. It's currently on show at the shop's Left Bank premises until 28 October.
Entitled Signification (Hope, Immortality and Death in Paris, Now and Then), the wall-mounted cabinet went on display yesterday, at the beginning of Paris Fashion Week. It is filled with fifty objects, some drawn from the shop's own stock, others selected from supermarket shelves. Hirst has also customised and drawn on a few inclusions.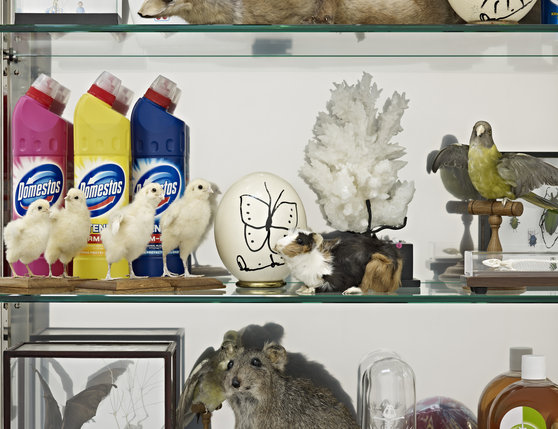 The artist has, of course, always included many natural elements in his work, and has worked with vitrines a great deal in the past. Yet this piece, which will be auctioned off for charity via Paddle8 next month, illustrates nicely just how zoological displays have influenced him almost as much as fine-art exhibitions.
"I love natural history and have since my first visit at age five to the City Museum in Leeds," said the artist in a statement. "It's the immediate visual impact of it, the wonder, you just can't help but go 'wow'! Being able to use Deyrolle's incredible collection to create my own contemporary Wunderkammer is just amazing. People have been making curiosity cabinets for almost 500 years, and it's something that's always fascinated me: they inhabit a space between life and death that says so much about who we are as humans, and who we might want to be."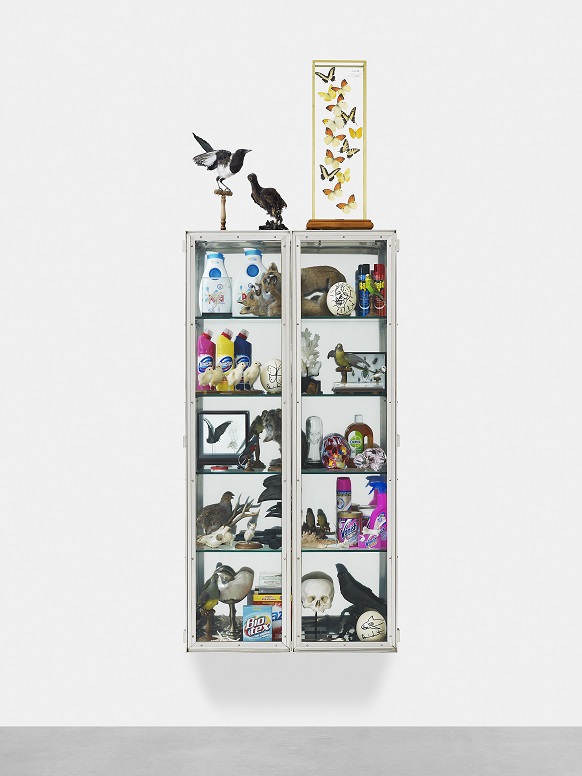 Aside from this item, Hirst and Deyrolle will also auction off 50 additional lots of similar, corresponding items, each of which will be signed and mounted. Proceeds from the Paddle8 sale, which will run October 14 through October 28 on the Paddle8 site, will benefit Hirst's own charity, Victim, as well as Deyrolle's chosen causes.
If you like Hirst's wunderkammer might we suggest you create your own with our new 21st Century Art Book, Wild Art and Defining Contemporary Art taking pride of place.