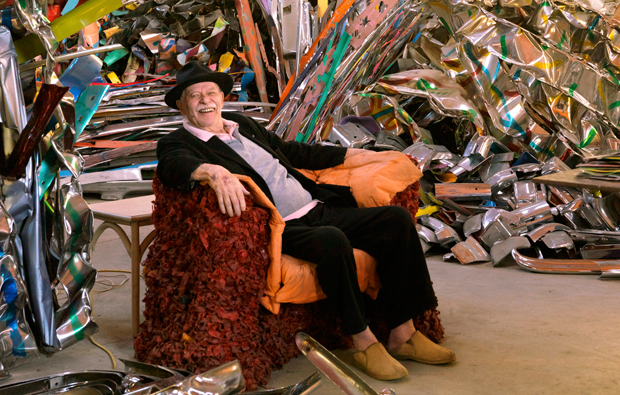 John Chamberlain's Choices at the Guggenheim
Retrospective spanning sculptor's half-century career includes Plexiglas, urethane and colourful car part pieces
When he dropped out of his studies at the Art Institute of Chicago, calling his teachers "narrow-minded", it was a mere taste of things to come for the as then unknown American sculptor, John Chamberlain. Even later in life when his mechanic sculptures would earn him the hightest accolades (he was twice awarded the John Simon Guggenheim Memorial Foundation Fellowship together with several formal honours from sculpture centres and galleries) the artist maintained a remarkable modesty that was evident in the matter-of-fact language he employed to talk about his work.
Speaking about his practice, he said: "If I feel so glad that a sculpture is here, and I don't care who did it, then I figure it's a good piece." He didn't try to elevate his work when he spoke, rather explain it by relating it to other familiar motifs. "That pile of stuff out there doesn't look too much different than a pile of clothes outside your bedroom that need to go to the laundry room," he once said of a huge sculpture comprising melded multicoloured pieces of metal.
He rose to prominence in the 1950s with energetic, vibrant sculptures hewn from disused car parts, achieving a three-dimensional form of Abstract Expressionism that astounded critics and captured the imagination of fellow artists. For a period in the Sixties, he turned to painting, using an enamel automobile finish to produce highly glossed, small-format square pictures. Fuelled by his interest in science, he produced sculptures in unusual materials, such as urethane foam, aluminum foil, paper bags, and mineral-coated Plexiglas. After returning in the mid-1970s to metal as his primary material, Chamberlain limited himself to specific parts of the automobile, adding colour to found car parts - often with wild results.
Despite being associated with Minimalist and Pop art movements, Chamberlain described his work as "abstract expressionism" because "it's an expression". Indeed, what has perhaps made his work so popular is Chamberlain's ability to animate hunks of scrap automobile parts with an emotional value. His direct approach and unabashed use of vibrant colour became two of the key defining factors of American art, which is maybe why Chamberlain has come to be seen as somewhat of an institution in his home country.
An exhaustive retrospective dedicated to the artist, planned before his death at the end of 2011, is currently exhibiting at the Guggenheim New York. The collection traces Chamberlain's career through approximately 110 works from his early monochromatic iron work to his later large-scale foil sculptures, incorporating those experiments with urethane foam, paper bags and Plexiglas along the way.