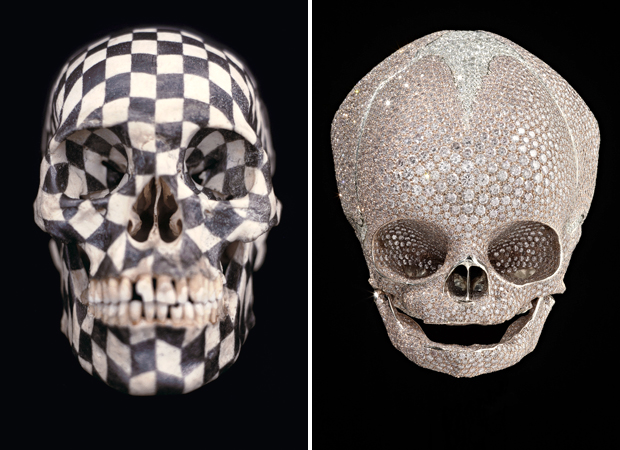 Damien Hirst and Gabriel Orozco, two conceptual artists, create two very different skulls
One is a 'chessboard' of black and white squares, the other covered in 8,000 diamonds, Alastair Smart reports.
For the inaugural exhibition at his new gallery in Hong Kong, Larry Gagosian turned to Damien Hirst, who unveiled - among other works - For Heaven's Sake, the diamond-encrusted skull of a 19th-century baby. The piece is a mini version of Hirst's £50 million masterwork For the Love of God (2007) - the skull of an 18th-century adult male which he bejewelled in 8601 flawless, pavé-set diamonds.
Because of the huge security, insurance and transportation costs, For the Love of God has spent most of its existence locked in a high-security vault. After its unveiling at London's White Cube gallery four years ago, its only other public display until this winter was at Amsterdam's Rijksmuseum in 2008. It is currently getting a third outing, at the Palazzo Vecchio in Florence.
Human skulls, in fact, are having something of an art-world moment. As well as Hirst's offerings in Hong Kong and Italy, there's also Black Kites (1997), the centrepiece of Gabriel Orozco's newly-opened retrospective at Tate Modern, a skull on which the Mexican artist drew a chessboard grid in delicate grey graphite.
Orozco worked away at it for six months and, in its way, it's just as intricate and impressive as For the Love of God. Indeed, through their respective treatment of skulls, one gains an interesting insight into the contrasting sensibilities of these two leading conceptualists of their generation.
In the case of Hirst's, bling is the thing. Encrusted by the Queen's own Bond Street jewellers, Bentley & Skinner, who claim it was Britain's largest diamond commission since the Crown Jewels, For the Love of God is the defining art-work of the 21st century so far, the ultimate expression of art's commodification. Hirst proudly proclaimed it cost £15 million to make, and even more proudly demanded £50 million from whoever wanted to buy it.
It's an ode to excess, bombast and, of course, to the artist himself. The queues at White Cube recalled, to some extent, the queues to see King Tutankhamun's gold death mask at the British Museum in the Seventies. Which was entirely apt.
Once upon a time, only a king or emperor would have had the power and riches to commission a work such as For the Love of God, but in the early 21st century of exorbitant art-prices, the likes of Hirst became artist-kings. His diamond skull is, as much as anything, a celestially shining monument to Hirst's own ego.
The influence of the _memento mori _and vanitas genres in European art is also clear: scenes where a skull reminded viewers of the fragility of life, reminded them death is the great leveller that puts an end to earthly pleasures and possessions.
In a cheeky, post-modern update, Hirst invoked this tradition but did so with a skull of quite outrageous ostentation. Which is to say, For the Love of God exemplifies exactly what it simultaneously decries. The joke may be very expensive, but it's also very funny.
Orozco's skull Black Kites, by contrast, is a much more sombre thing, entirely lacking in the humour and showiness of Hirst's. No Mayfair jeweller was involved in its making; it's the product of an artist who's always disdained the art market. After painstakingly mapping his grid over and around the skull, Orozco called the process a 'highly personal engagement' between him and the deceased.
What's perhaps most intriguing about Black Kites is the way the chessboard "squares" are, at various points, not really squares at all. Forced to adapt to the irregularities, crevices and contours of the skull's form, Orozco's shapes are occasionally stretched and distorted – with Bridget Riley-like effect – into rhomboids, lozenges and even curves.
At first glance, Black Kites may recall a decorated skull of a Day of the Dead celebration, but despite his nationality, Orozco claims his inspiration didn't come from Mexican skull iconography. He sees the work simply as "an experiment with graphite on bone… The thing is a contradiction, really: a 2D grid superimposed on a 3D object. One element is precise and geometric, the other is uneven and organic. The two are not resolved".
The conjunction of control and chance is a thematic thread that runs throughout Orozco's career, and in Black Kites the grid duly fails to impose its order on the skull. Which is also to suggest science can never overcome death.
Orozco and Hirst both hail from the conceptualist school, yet their respective skulls could barely be more different: Hirst's narcissistic and in-your-face, Orozco's monastic and pared back. It seems entirely fitting, then, that Black Kites and Hirst's latest are respectively showing where they are right now. The former has found a suitably austere home in London, a wholly different city in 2011 from the cocksure, pre-downturn one in which For the Love of God first appeared. The latter, by contrast – through strategy on Larry Gagosian's art rather than coincidence – is on show in a thriving China, awash with super-rich collectors increasingly looking to splash their cash on western art.
Death, perhaps, isn't the great leveller, after all.
Alastair Smart is the Arts Editor for The Sunday Telegraph