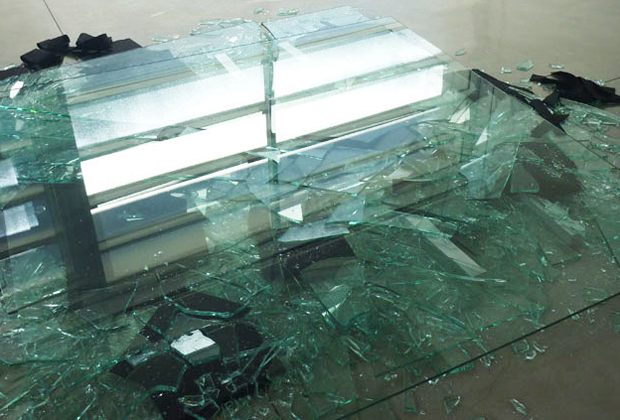 Barry Le Va artwork smashed at Gagosian
But it's all part of the installation process for a 1968 piece by the Californian sculptor and installation artist
As you'd expect, most people installing an artwork are rather careful not to damage or break it in any way. Indeed, a suit was settled this week over the installation of a Mark Rothko painting in the home of the painter's son. (The painting, Untitled 1948, fell off the wall and was impaled on furniture below. Insurers Lloyd's paid Christopher and his sister Kate around $660,000).
No such redress was necessary however, for the recent installation at Gagosian for its Los Angeles exhibition The Floor Show: Gravity and Materials as our video below shows. The work in question is a 1968 sculpture by Barry Le Va called Set I A placed B placed; Set II A dropped. B dropped.; Set III A placed. B dropped.; Set IV placed.
The work comprises felt, glass, aluminium bars and stainless steel ball-bearings, yet despite the industrial materials installers still go about their work rather gingerly. The Gagosian show examines how artists have taken sculpture off and beyond the pedestal. You can find out more about it here.