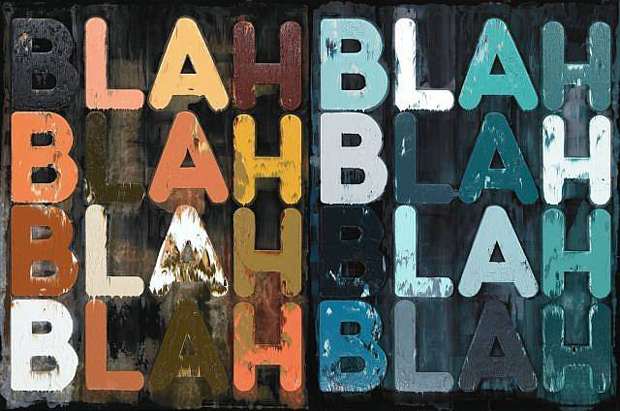 Mel Bochner: If the Colour Changes
We review the American conceptual artist's new Whitechapel Gallery show
Blah, Blah, Blah may read like a rather rude welcome banner, but this large-scale piece (from 2011) - on which the repeated phrase is painted in gloopy, multi-coloured oils on a black velvet field - is a fitting introduction to the first major British survey of the work of influential conceptual artist Mel Bochner.
The complex relationship between art practice, visual meaning and the function of language has long been a core interest of the Pittsburgh native (born 1940), whose 1966 installation, Working Drawings and Other Visible Things on Paper Not Necessarily Meant to Be Viewed as Art is credited as the earliest exhibition of conceptual art.
This overview shows how the pioneering Bochner has gradually shifted away from an analytical approach to the function of language in perception, to the way in which color can divert a text from its duty to convey meaning. His recent Thesaurus paintings, Amazing!, Sputter and Master of the Universe illustrate this, the last a riff on George W Bush's invention of the ridiculous word "decider" to describe himself. Sly social and political comment seeps from these canvases, on which the letters are highlighted or recede depending on their colour, like capitals unevenly punched out on a faulty typewriter. Reading them for literal meaning while blanking out their visual impact becomes as much a challenge of disassociation as the head-patting/stomach-rubbing game.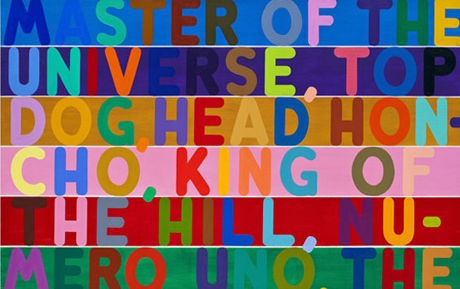 Less playfully, Bochner lays out his Theory of Painting (1970) by means of sheets of plain and block-painted newspaper on the floor, an illustration of the four manoeuvres available to abstract painters at the time - coherent figure on coherent ground, coherent figure on dispersed ground, dispersed figure on coherent ground and dispersed figure on dispersed ground.
In contrast, there's a rich, jewel-like beauty to the Transparent and Opaque series (1967, 2011), where Bochner analyses the elements of photography and applies them to painting. For these works, he smeared Vaseline and shaving foam onto glass slides and hired a photographer to shoot them with strong, tinted light to give them a colour they didn't have themselves. The artist explains: "I had in the back of my mind the whole question of painting; paint, image, representation, abstraction, composition. But doing it through photography was a way of demythologising it, of subverting the romanticism of painting."
As subversions go, Bochner's are not only entertainingly cerebral, but also extraordinarily seductive. Mel Bochner: If the Colour Changes is on at The Whitechapel Gallery, London, until December 30.