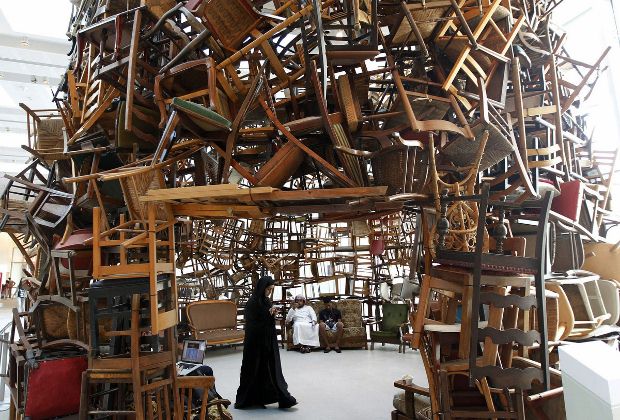 All you need to know about The Abu Dhabi Art Fair
The fourth edition finished earlier this month, attracting some big names - and altering some art fair conventions
It may only draw in 50 galleries, and fewer buyers, and little press, but The Abu Dhabi Art Fair, having just wrapped up its fourth edition (7 – 10 Nov) earlier this month, is quietly becoming a big deal in contemporary art circles. As Marc Glimcher, Pace Gallery's president, told The Economist a couple of years back, the event could be thought of as "a formal introduction to the cultural ambitions of Abu Dhabi."
These ambitions are growing clearer this time around, as the outposts of the Louvre and the Guggenheim take shape on the banks of the nearby Saadiyat Island.
WAM, the Emirates news agency, reported an "unprecedented level of interest" in the fair this year, particularly for the panel discussion between Frank Gehry, Jean Nouvel and Lord Norman Foster, each of whom have designed one of Saadiyat Island's new developments.
Georgina Adam also explained in the FT that sales at the fair tend to take place towards the end of the event, not at the beginning, as is common in Europe and the US. The royal family is the fair's main buyer. However, their influence is diffuse: his highness General Sheikh Mohammed bin Zayed Al Nahyan was the fair's patron, while Crown Princess Sheikha Salama was the most prominent royal at the event, with her daughter, Sheikha Maryam, playing a supporting role.
The new Louvre and a Guggenheim are also funded by Royal patronage, and so cultural civil servants, as well as museum curators were working the floor. This year Guggenheim Director Richard Armstrong gave details of six works the as-yet-unfinished museum has already acquired. These included a chandelier by Ai Weiwei, a woven work by the Ghanaian artist, El Anatsui, a sculpture by the Iranian artist Monir Farmanfarmaian, and an installation by the Algerian-born Rachid Koraïchi. Armstrong confirmed to Adam that this worldly selection, with an emphasis on the art world beyond Europe and America, was indicative of the new museum's "collecting thrust." If other galleries follow, then interest in Abu Dhabi's art market can only grow.
Phaidon has its own veritable art fair in the run up to Christmas with variations on our new edition of The Art Book. You can buy it as a gift set for Christmas with its own greetings cards or with a set of beautifully printed postcards. Take a look at the greetings cards set and the postcards set.