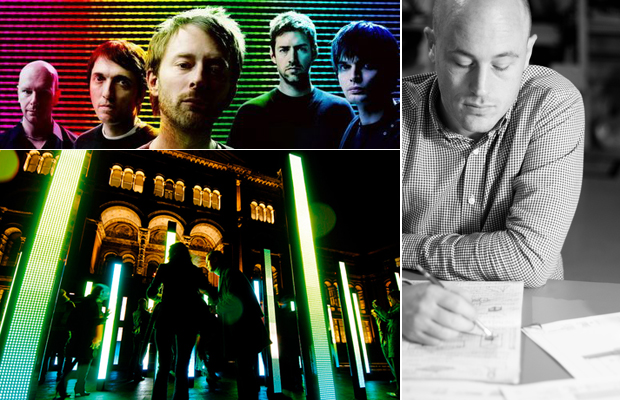 United Visual Artists' Muse Music
The art and design collective on the music that gets them in a creative mood
Art and design collective UVA comprises an 18-strong group of creatives whose fields of expertise range from fine art, architecture, moving image, computer science and engineering. The cross-pollination of their skills has resulted in work that lies at the intersection of sculpture, architecture, live performance and digital installation.
The various members came together in the world of live performance, designing live shows for touring bands. The practice has diversified since then and has exhibited work at the V&A, the South Bank Centre, Opera North Leeds and their work has toured the world, from Tokyo to Taipei, Melbourne to Istanbul. UVA has created commissions for the Tate Modern's Turbine Hall, Madison Square Garden and Trafalgar Square, London. Its 2007 responsive light and sculpture work Volume won a yellow pencil at the D&AD awards and featured in the London Design Museum's _Design of the Year _show in 2008.
The recent High Arctic at the National Maritime Museum resulted from member Matt Clark's expedition to the arctic and is included in the 2012 London Design Museum's _Design of the Year _show.
Having collaborated with musicians including Massive Attack, Jay-Z, U2 and The Chemical Brothers music has played a big part in their professional life so we were intrigued to see which songs they would pick for their Muse Music playlist. Matt Clark told us more about what each song means to him and the group as well as sharing some memories about musicians they have collaborated with. Before you listen to their playlist on Spotify and iTunes, have a read of what he has to say about the tracks:
"Music has always been a big part of my life as far back as I can remember. My father didn't have much in the way of material things but he did have his beloved record collection, which he would play on his sacred hi-fi (crafted by his very own hands). His enthusiasm for music rubbed off on me but I couldn't sing and had no rhythm so it wasn't a career option. I knew that what ever I did in life it would be close to music in some way or another even if I weren't the one making the music. We have been fortunate enough to collaborate with so many great musicians over the years; some of the songs I have chosen here are direct influences to projects that we have worked on and others are collective favourites from the studio."
_Steve Reich Electric Counterpoint III. Fast - _ Steve Reich's counterpoint music is mesmerising, it does something very peculiar to the brain. We took inspiration from his early pendulum music experiments where he swung microphones over speakers and the feedback would go in and out of phase. Our work Chorus consisted of eight, five-metre-tall computer controlled pendulums that swung in and out of phase. We made a fully sequenced performance out of it, collaborating with the musician Mira Calix. This is the direction that UVA is most interested in right now, searching for alternatives to the traditional concert performance and finding new ways of experiencing music spatially.
__Massive Attack _Group Four - ___ I was a huge fan of Massive Attack before we got the opportunity to work with them so it has been great to collaborate with them on so many projects. The first project we worked on together was for the 100th Window Tour. Group Four was always the last track in the set and the band performed it in quite a different way to the album version, it was much more intense live. Our visual treatment was a barrage of real-time statistical clocks based on information gleaned from the internet, it was kind of apocalyptic but very powerful at the same time.
__Battles _Atlas ___ _- _Warp Records has been responsible for so many great artists over the last 20 years and I could quite easily fill this list with them exclusively. When we were asked to direct the video for Battles it was a particularly exciting prospect to be working with this iconic label and a very interesting band. I love the song Tonto (which we directed the film for) but I like Atlas (from the same album) a bit more. It's Martian music.
__Kraftwerk _Numbers ___ _- _Kraftwerk were way ahead of their time, making music using computers but retaining a soul to it all. Their live shows are also legendary, usually ending with them turning into actual robots.
__New Order _Blue Monday - ___ My youth was spent when the electronic music scene exploded so it would be rude not to mention one great dance track. Blue Monday is, in my opinion, the greatest dance record ever made.
__David Bowie with Brian Eno _Speed of Life - ___ Both of these artists have been hugely influential. It would have been interesting to be a fly on the wall when they created the Low album in Berlin. Plus a good way to name check two people at once.
Pink Floyd Echoes - When I was a child my father would always go on about these legendary Pink Floyd shows that he went to in the Seventies, describing them as incredible visual spectacles that were like nothing else on this planet. I never got to see them live but I'm sure he was right. We also took reference from the performance of Echoes in the Live At Pompeii film for the Tonto video that we directed for Battles.
__Autechre _Drane - ___ I've been a fan of Autechre for many years, I think that they are true pioneers of electronic music but not all of it is easy to digest. Drane isn't necessarily their best known track, but it is my favourite. This is headphones on, lights off, music.
__Alva Noto _Xerrox Phaser Acat 1 - ___ Alva Noto (AKA Carsten Nicolai) belongs to that rare breed who can actually make interesting music and visual art in parallel, a very talented being.
__Radiohead _Everything in its right place - ___ Radiohead are one of the very few bands that we would still like to work with. They have become more experimental with age but somehow still remain accessible, believable and credible.
Listen to UVA's playlist on Spotify and iTunes.
You can also listen to these creatives' Phaidon playlists:
John Pawson
Simon Fujiwara
Samuel Wilkinson
Alex Hartley
Brian Griffiths
Michele Howarth Rashman
George Condo
Martin Boyce
George Shaw
Karla Black
Piers Secunda
Mark Titchner
Chris Johanson
Edmund de Waal
Haroon Mirza
Sign up to the Phaidon newsletter to get future updates.