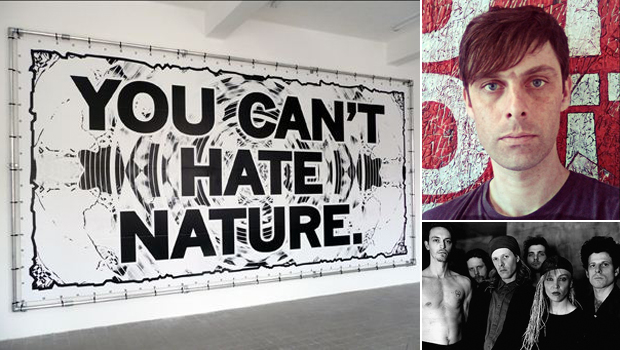 Mark Titchner's Muse Music
The belief-challenging artist on the music that gets him in a creative mood
It's Friday once again and the Phaidon Muse Music playlist that we hope will soundtrack your weekend has this week been chosen by St Martin's graduate and former Turner Prize nominee Mark Titchner. Mark's work centres on the belief systems that inform society be they political, religious or scientific. He works in a wide range of media including sculpture, installations, banners, posters and video. He often employs new technologies using old techniques - computer-designed billboards sit alongside hand-chiselled contraptions. Blind faith in science or our obedience to authority are recurring themes in his work, some of which is kept in the UK Government Art Collection. He describes his work as a dialogue about how we process thoughts and ideas and a good part of it references music lyrics and philosophy. We've put his playlist for you to listen to on Spotify but before you do, take a read of what he says about it.
"Music is a big part of my working process, particularly as I seem to find myself involved in endless repetitive tasks whilst trying to make art. I tend to use music in two ways; firstly to put myself in a particular state of mind that I feel a work requires and secondly to push me on when I start to tire or become frustrated. My record collection in the studio is a big solace to me and it's wonderful to thumb through the sleeves and come across some old lost friends. Over the years those records have been fairly well pillaged in the hunt for texts I can use in my work."
_Swans - Half Life _ An early Swans song that I imagine as the aural equivalent of Barbara Kruger's classic work of the 1980s. A non-self-help mantra of sorts containing the cheery line "Don't be useless, waste is obscene".
_Fugazi - Long Distance Runner _ This song is like an old friend that pushes me on when I'm exhausted. The first line, "The farther I go the less I know", seems to sum things up rather neatly. I used the Fugazi song 'Blueprint' in my short film for the Turner Prize and was extremely happy to receive an email from (frontman) Ian McKaye wishing me good luck.
__Kyuss - _Gardenia ___ I thought that I should probably choose at least one 'proper' rock song and this is it, resplendent with cars, sex and weed. In 2005 after my first show with Peres Projects, I finally got to hear this song as it was intended to be heard, driving across the desert from Los Angeles to Las Vegas, rather than on the number 63 bus.

__Cloaks - _Against ___ The logical conclusion of the Swans/ Godflesh/ Scorn trajectory. Definitely one for the end of the day in the studio turned up very loud.

__Plastikman - _Sickness ___ This song reminds me of late nights in my very first studio in Peckham. A small room on the top floor of a building that, as well as artists studios, boasted sweat shops, an evangelical church and a chicken processing facility!
_Oxbow - Bomb _ Eugene S. Robinson is one of my favorite singers and probably my favourite front man of all time. This is a quiet moment in the Oxbow canon but a song that embodies his unique voice. The only band that I have ever seen that has given me a panic attack.
__Asva - _Presences of Absences ___ A practical demonstration in restraint. Built from a single organ drone the song finally explodes gloriously and in a deeply satisfying way. This might be the prettiest thing I have ever heard.

__Alva Noto - _Uni rec ___ A happy memory from the recent Supersonic Festival. Carsten Nicolai's attention to detail is astonishing and the purity of sound creates an incredible sense of scale and space within his music.

Nurse with Wound _- Soliloquy for Lilith 1 _Probably my favourite drone record of all time and the perfect music to work to (especially as it's a triple album!). A miraculous sound created by a chance electrical fault in a recording studio and conjured with a wave of Steven Stapleton's hand.
Death Grips -_ Beware _ This song was one of the sounds of this summer in my studio. The Jane's Addiction sample at the beginning of the song also neatly brings me back to my fledgling teenage dabblings in art and music. Unfortunately, I'll shortly be leaving it after five years, I'm sure this song will always remind me of my last summer there.
Listen to Mark Titchner's Phaidon playlist on Spotify
You can also listen to these creatives' Phaidon playlists:
John Pawson
United Visual
Simon Fujiwara
Samuel Wilkinson
Alex Hartley
Brian Griffiths
Michele Howarth Rashman
George Condo
Martin Boyce
George Shaw
Karla Black
Piers Secunda
Chris Johanson
Edmund de Waal
Haroon Mirza
Elizabeth Peyton
Wilhelm Sasnal
Nathaniel Mellors
Richard Harrison
Antony Micallef
Roger Hiorns
Sign up to the Phaidon newsletter to get future updates.