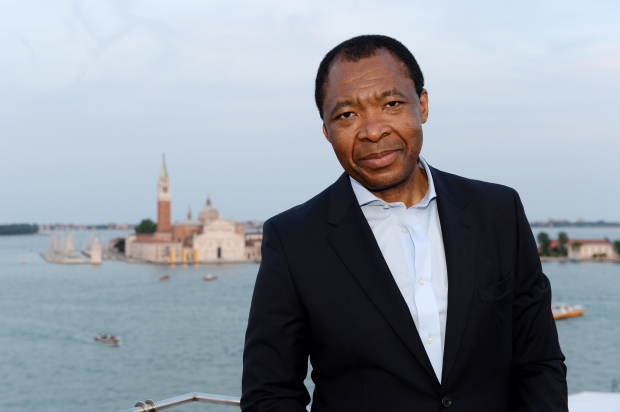 Phaidon's A-Z of The Venice Biennale
It only previewed yesterday and there's already a lot to read - here are 26 things you might have missed though
A ustralian Pavilion: Designed by Denton Corker Marshall and the first new building to rise in the Giardini this century. Opened to a media scrum by Cate Blanchett. 'Seven in, seven out!'
B oltanski French artist Christian has installed a video of Japanese bells in the Chilean desert, arranged like the celestial constellations on the day he was born.
C igarettes: Sarah Lucas' visual prop, lodged in the genitals of her sculptures. It's sexy, deathly and sort of funny. And in gloriously bad taste.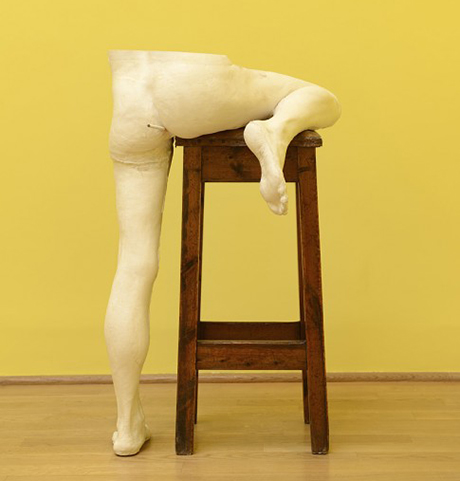 D ocumentary: Abounaddara, the anonymous Syrian 'emergency cinema' collective premier a new avant-garde cinema meets Vice News film every Friday.
E lvis Presley's Heartbreak Hotel features in Walter Vanhaerents' debut Venice show. 'It breathes sadness linked to doom, but also refers to the nostalgic atmosphere of Los Angeles' apparently.
F rieze New York, not Art Basel, will benefit from the new Biennale date. The old credo 'see in Venice, buy in Basel' is apparently up for revision. . .
G ormleys on the Grand Canal. "Look up! There! Oh, no, it's a gondolier eating lunch."
H alldor Laxness the Icelandic writer who influenced American Pavilion artist Joan Jonas is not alone. The Icelandic Art Center also collaborates with Muslim communities in Venice to create the city's first Mosque.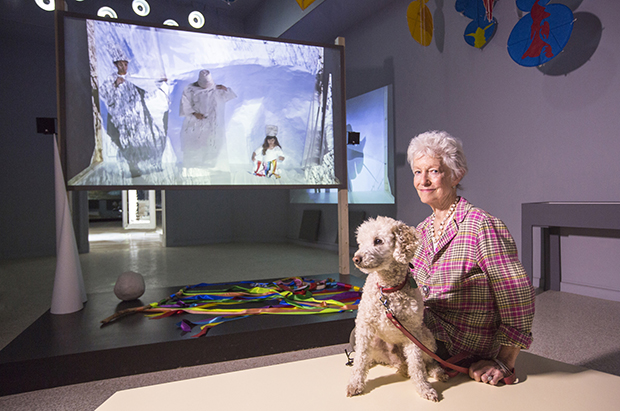 I mpossible to see everything according to Boris Vervoordt, Director of Art & Antiques at Axel Vervoordt. So "Don't plan your trip too much, let the art in the city surprise you."
J ason Moran: Jazz pianist and Theaster Gates collaborator brings a selection of prison chain-gang songs to the Biennale.
K ara Walker: the US artist gets pagan, overseeing sets and costume for Bellini's druids-Vs-Romans opera, Norma.
L eisure Land Golf: Doug Fishbone brings back his artsy mini golf course, featuring (gulp) a hole designed to look like the Costa Concordia ship wreck.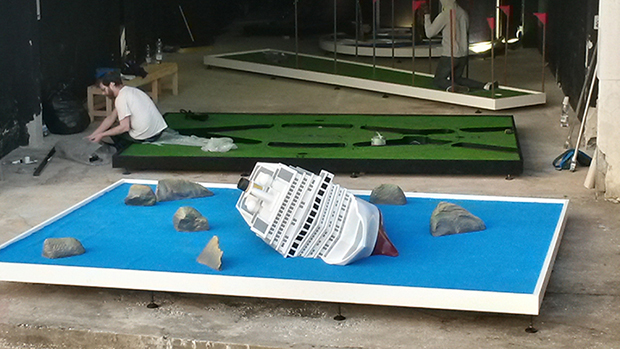 M ural Jackson Pollock's colossal 8-by-20-foot ab-ex work at the Guggenheim (originally commissioned by Peggy for the entry of her New York residence).
N auman, Bruce: Look out for his iconic 1970s neon text sculptures in the International Exhibition.
O neiric and organic islands in the French Pavilion. Go check 'em out.
P erformance Art: You know about the reading of Karl Marx in Adjaye's Arena but in conjunction with Christodoulos Panayiotou's presentation for the Cyprus Pavilion, The Parting Discourse will see participants dive into the Mediterranean. Chilly!
Q uestion: What's the actual point of Venice? Director Paolo Baratta says it lets us formulate aesthetic judgments on contemporary art, following the demise of the avant-gardes and "non-art". . .
R elics: Theaster Gates' Martyr Constructions takes fragments of abandoned US churches to Venice, the home of decadent spiritual conservation.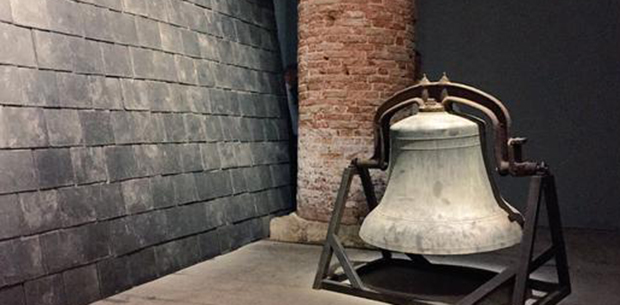 S candal: Of the eight artists featured in the Kenyan pavilion, six are Chinese, and only one ethnic Kenyan, Switzerland-based Yvonne Amolo. "It's like people have just chosen to step into my space and decided I do not exist as a Kenyan artist," said Wambui Kamiru.
T equila! produced in limited edition bottles by Danish artist Danh Vo for the first artist-curated Punta della Dogana Exhibition.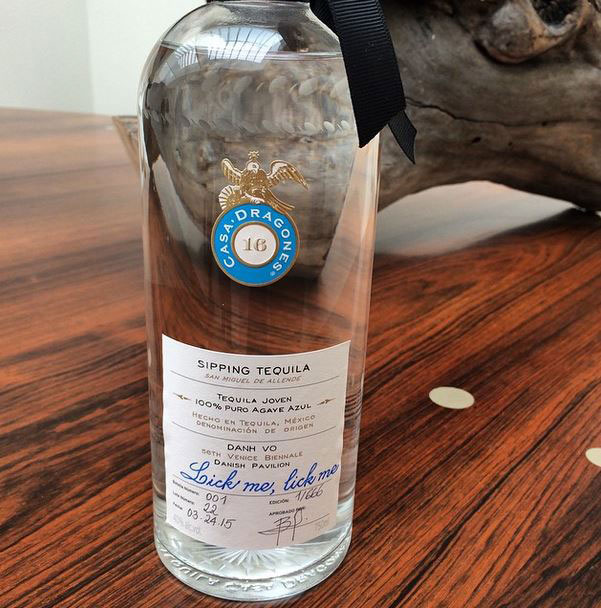 U nderdogs: 88 of the 136 artists in the main exhibition, including Kim Ayoung and Nam Hwa-yeon of South Korea, are appearing in Venice for the first time. Mid-tier dealers rejoice.
V enetian Blinds, a series of performances by art-bands including Emily Sundblad and Matt Sweeney; the Rodney Graham Band; the Cornichons (which boasts Jose Martos and Jon Kessler as members); and Martin Creed.
W arhol Why on earth is Mr 15 Minutes of Fame represented in the Azerbaijan Pavilion in a show dedicated to artists' concerns about the planet's social, political and ecological future?
X iaotao, Zhang: the painter-turned-multimedia artist to watch in the Chinese pavilion. Old and new China squashed into beautiful, torturous imagery.
Y achts. Yes there are a lot of rich people in Venice. Get over it.
Z eitz Collection: Proof you can collect at Venice. Mark Coetzee, curator of this esteemed collection, bought 85 works at 2013's Biennale Artspace tells us.