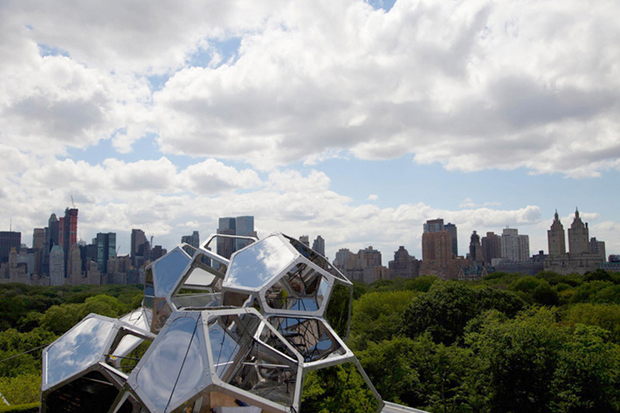 Tomás Saraceno creates Cloud City above New York
Argentinian artist lashes mirrored 'bubbles' to roof of Metropolitan Museum of Art
Argentinian artist Tomás Saraceno has brought his Cloud City concept to the US for the first time and at what is quite possibly its most audacious venue yet – the roof of the Metropolitan Museum of Art.
You may remember the Argentinian artist staged an exhibition in Berlin last year. The latest 29-feet-tall installation is staged as part of the museum's rooftop sculpture program, now in it's fifteenth year. Inspired by the geometry of interconnected soap bubbles, it's made from 16 stainless steel-framed pentagons linked together by Lucite and mirrored floors, which visitors access via transparent staircases. The 20-ton structure is lashed to the museum roof via a series of high tensile steel wires.
Saraceno's studies of both philosophy and science have led him to question our ways of living with one another and envision breathtaking installations embodying utopian ideals. "I want to provoke the feeling of being in a cloud floating in the middle of several realities," he said at the opening yesterday. The 'clouds' reflect Manhattan, highlighting everything from the lush greenery of Central Park to the entire skyline of New York in the mirrored 'bubbles'.