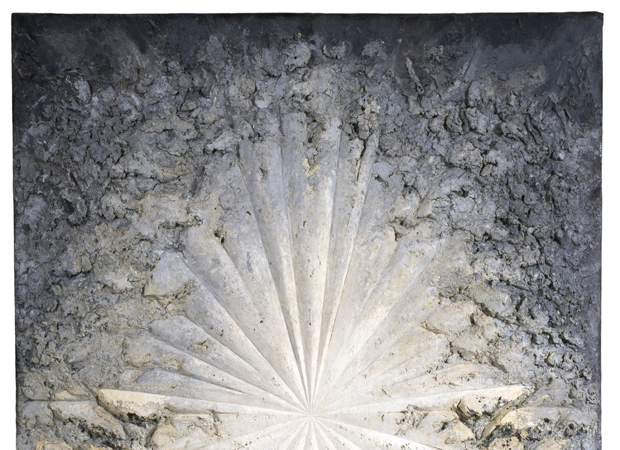 The untold story of Jay DeFeo's The Rose
Designer sisters Rodarte present the incredible journey of a beat painter's seminal work
The Californian fashion designers Kate and Laura Mulleavy – known collectively as Rodarte – draw inspiration from the unique microcosm of their home state in their work, whether in their sun-drenched colours or references to kitsch Americana. It's therefore no surprise that when they curated the latest edition of A Magazine Curated By, they chose to pay homage to artists who also have a special relationship with their beloved state.
Sitting proudly at the front of the magazine is an essay by author Martha Sherrill on the beat artist Jay DeFeo's The Rose and the astonishing story of its creation, its slip from memory, and ultimately, its rediscovery and restoration. Jay DeFeo was a mixed-media artist working in the San Francisco area from 1950 to 1989. The Rose (1965) is her most famous work and took almost eight years to complete. It is a massive 1,850lb painting that, despite its size and almost legendary status, could have been lost forever. Sherrill writes:
"It was hauled into the San Francisco Art Institute in 1969, to a room with a slightly hollow, institutional feel, an impersonal place of long tables, brushed aluminium chairs, ungracious light, and sensible flooring. For such a bold painting, and a colossus, The Rose spent many years there largely disregarded. Bolted to a wall of the McMillan Conference Room, it became a monumental witness to the mundane, a silent presence at faculty meetings, student bull sessions, symposia, and slide lectures when the overhead lights were shut off and the room darkened and all human attention was turned to images of other paintings, other works by other artists, The Rose was strangely easy to forget."
Sherrill explains how a work by one of the state's star artists fell out of fashion amid the rise of what she calls "the newness of pop and psychedelic", and how many galleries were put-off by the size and scale of the complicated multilayered, painted piece - in some areas it was more than 8 inches thick. Eventually, it languished behind a fibreboard wall at the San Francisco Institute of art for more than 20 years, where it was very much out of sight, out of mind. It would take someone who had never heard of DeFeo to recognise this injustice and become its saviour.
The full story of Jay DeFeo's The Rose can be found in A Magazine Curated By Rodarte.