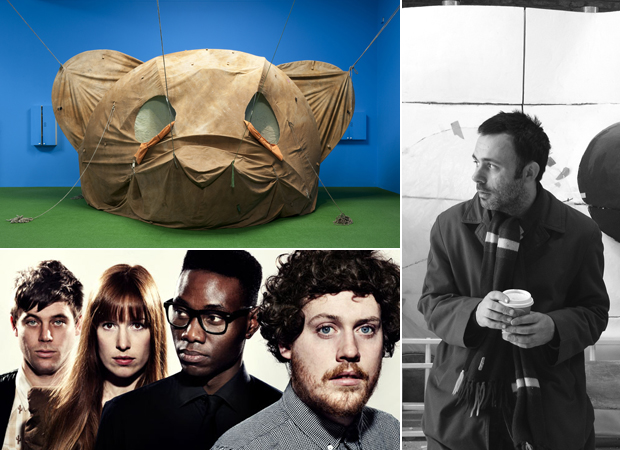 Brian Griffiths' Muse Music
The sculptor on the music that gets him in a creative mood
The Babylonian water clock in our office informs us that once again, it's Friday. For this week's Muse Music - the Desert Island Discs of the creative community - we've been talking to London-based artist Brian Griffiths who has put together a playlist of 10 of the songs that inspire his art.
Since graduating from Goldsmiths College in the late 90s, Griffiths has been creating sculptures and installations charged with both humour and sadness. He often chooses to use readymade everyday objects from bygone eras - once seen as aspirational but now superseded. Griffiths transforms these objects into fantastical machines, fictional characters or environments. In his own words "This transformative process presents a potential escape for the object from its prescribed role, offering new functions and hope."
Past works have taken the form of a large concrete painted bear head, while the installation _Life is a Laugh which - complete with a 7.5m wide Panda head and 1970s caravan - occupied Gloucester Road tube station for five months in 2007. _His design entitled Battenberg was one of the shortlisted enteries for the fourth plinth in Trafalgar Square in 2010.
He has had solo exhibitions at Arnolfini, Bristol (2007), Galeria Luisa Strina, São Paulo (2005), and Camden Arts Centre, London (2004) and his representative gallery Vilma Gold, London, is about to showcase his latest work in The Invisible Show (January 12 until February 19). You can listen to his playlist on Spotify or iTunes but before you do, have a read of what he has to say about the role music plays in his art and life.
"My studio is in an old Spratt's dog biscuit factory in the east end of London. I am in the basement, where the large ovens used to be, this means no radio reception (which would probably be my lazy first choice) and so self selected music is all there is. I use music to help fill my studio space and at times in moments of anxiety or sheer emptiness to fill my head. Music seems unfathomably linked to me working and being happy in the studio, without it the studio becomes more difficult. I often don't actual notice the music in my studio after the first few tracks – it becomes a thin backdrop or light soundtrack for my activity, for this reason I can play the same album all day without boredom, in other places this would be called torture. This selection is taken from my CD and ipod collection it's a pick-n-mix of genres, decades, emotions and stories that help the world into the deep dark basement."
Michel Legrand & The Flemish Radio Orchestra The Umbrellas Of Cherbourg (I Will Wait For You) - I love musicals. The artifice, the colour, the sets, the breaking into absurd song. This artifice with a constant awareness of staging is something I use in my artworks and installations. The shift from the ordinary into the fantastical, from the habitual into the implausible is something I return to in the work. My new exhibition (The Invisible Show at Vilma Gold) uses this extreme juxtaposition with a low slung swagger. This track is from Jacques Demy's classic The Umbrellas Of Cherbourg, described by the filmmaker as a 'film in a song'. Demy pays homage to Hollywood musicals with this intoxicating film. All the dialogue in the film is sung and is beautifully crafted by Demy's long time collaborator Legrand. This melody haunts the whole film – it is touching and knowing. Art should be like this.
__Metronomy _The Look ___ - This has been a recent addition to the studio and travel play list. This is from a concept album of sorts, a re-imagining of Devon into this fantastical and exclusive English Riviera. Joseph Mount creates a place both believable and absurd (like watching re-runs of Miami Vice). This track has a relentless lo-fi organ riff that ingeniously does the British seaside carousel sound with some truly surprising backing vocals. The lo-fi and desperate escape into fiction is something I use in all my practice, the jump from everyday things into clichéd genres. The story or fictional cue is something that has always contaminated my artworks and is rich in this Metronomy track. Also trying to make art from your own experiences always seems like a beneficial starting point to me.
__Tom Waits _The Piano Has Been Drinking (Not Me) ___ - I have been a Tom Waits fan since the mid 1980s; he has kept me company for many a late night hour in the studio. Waits is a mythic figure for me - some kind of sailor, barfly, stand-up comedian and experimental urban witch doctor. There is a self-deprecating dark humour at work, a studied and constructed failure that I try to tease into my sculptures. To make artwork that is fallible and imperfect is important to me in a time of ever increasing glossed commodity perfection. This is early Waits at the piano, a song as a list of razor sharp observations, some wayward ivory tinkering and the inevitable ending…. not me….not me.
Chet Baker My Funny Valentine - Chet Baker was a remarkable singer. He has the cool and breezy elements of the West Coast sound from the 1950's but also there is a also a unique concentration and restraint. Throughout his life he returned again and again to My Funny Valentine, for me it's the classic Chet Baker track, where he stretches out its spare phrases until they start to ache. It is a valuable lesson in directness. I want my art to be direct and emotional - to make people feel not just think.
Dexy's Midnight Runners Plan B _ - _The combination of Kevin Rowland's punchy powerful voice over glorious full brass section is just life affirming. I also admire the band's drastic change of image and styling over their relatively short career – from black woolly hat working class heroes to travellers to office casuals - treating life and art as a dressing up box seems important to me and my art practice. I think of sculptural visual languages as fancy dress to be tried on for size and changed at speed – no style or signature just a consistent attitude.
_Slim Cessna's Auto Club This Is How We Do Things In The Country _ - I was introduced to this band when on a residency in Pittsburgh at The Mattress Factory Museum and managed to catch Slim live in the city. Ever since studying painting in Hull and frequenting the Adelphi Club with its country music nights I got hooked on such folksy wisdom and gothic, gospel hillbilly sounds. Slim Cessna's Auto Club do this with buckets of wit, style, skill and energy. A track with crossed eyes and a crooked grave.
The Associates Those First Impressions _ - _For me one of the best bands of the 1980's, this post punk new wave band with Billy Mackenzie's distinctive dandy operatic vocals and a deep electronic soundscape with galloping angular guitars. This track is for upbeat days in the studio when there is a list of perfunctory activities to do.
__The Wedding Present _Dalliance ___ _- _A band I saw live more times than I can remember in my late teens and into art college. David Gedge is 'the everyman' front man with lovely clumsy vocals and unpretentious simple lyrics that pack a tender and devastating punch. This track for me is one of their finest moments – a beautiful thing.
__Tony Bennett _For Once In My Life - ___ This is from my mum's early crooner addiction. Sundays was the day of music in my home as a young boy. This is when the cumbersome magical reel-to-reel machine came out and the American songbook came to life with Frank, Dean, Nat, Ella and Billie and co in a village in the West Midlands called Bearley. Tony Bennett is the consummate showman and this is one of the early short gems. I find the solo performer on a stage with a microphone a compelling image and idea, it fits with the (romantic) artist as loner and often alone in the studio.
Johnny Cash ___ The Man Comes Around__ _- The opening track to Cash's album American IV, the original rebel rides on through. An artist who got better towards the end of his life, a dream goal for any artist's career.
Listen to Brian Griffiths' Muse Music playlist on Spotify or iTunes.
You can also listen to these creatives' Phaidon playlists:
John Pawson
United Visual
Simon Fujiwara
Samuel Wilkinson
Alex Hartley
Michele Howarth Rashman
George Condo
Martin Boyce
George Shaw
Karla Black
Piers Secunda
Mark Titchner
Chris Johanson
Edmund de Waal
Haroon Mirza
Sign up to the Phaidon newsletter to get future updates.