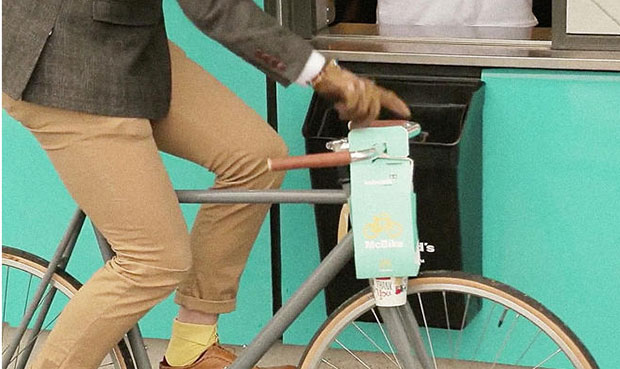 McDonald's targets cyclists with mobile packaging
Restaurant giant hops on the bike boom with a nifty way of transporting burger and fries - without risk of flipping
McDonald's has been engaged in a somewhat precarious balancing act of late - trying to combine the beneficial message of a healthy lifestyle with a predominantly fast food offering. It seems it's currently attempting to pull this off on two wheels through the medium of structural packaging.
The world's biggest restaurant chain has introduced McBike, a take-away box for cyclists. The cardboard pack holds a burger, bag of fries and a drink, and can be carried dangling from a handlebar - thus obviating the need for phaidon.com's (admittedly risky) one-hand- on-the-handlebar-the-other-wrapped-round-a-coffee-cup-ride in, each morning.
It's the work of Tribal Buenos Aires, one of 60 offices across 38 countries that make up Tribal Worlwide, the "digitally centric" agencies of ad agency Tribal DDB.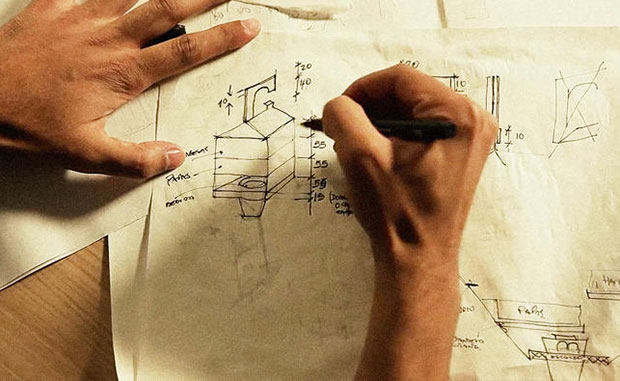 Made of recyclable card, the container opens flat to reveal two compartments for solid food, with the cup of drink lodged securely in a circular hole in the base of the box. Integrated into the top of the box, which is a sea-green colour and carries the McBike logo in orange, is a convenient hook.
It's only available so-far in bike-friendly Copenhagen, which has 390km of designated bike lanes, and the Columbian city of Medellin, but Amsterdam and Tokyo are next on the agenda with a full roll US and UK roll out promised in the coming year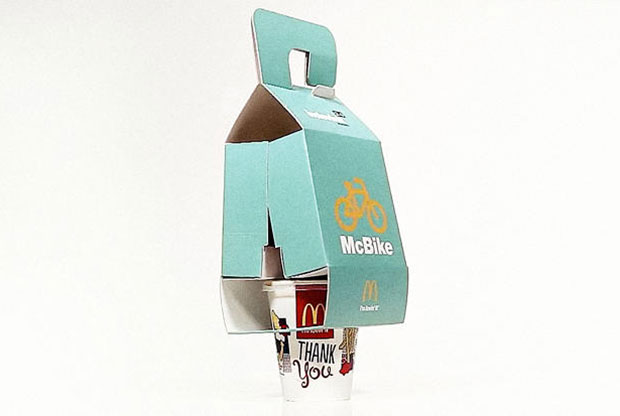 With the number of big city cyclists hugely on the up, we can't believe somebody hasn't done this before. All in all, it's a great way of ensuring that tonight's 'supper' is not your last.
For more great designs that have stood the test of the time, may we point you at our Phaidon Design Classics App and the diminutive but fantastically curated selection in The Design Book.