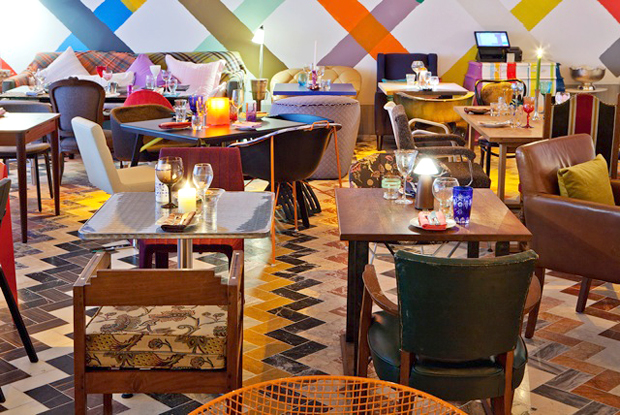 Martin Creed 'redesigns' London restaurant
Turner Prize winner creates zigzagging marble floorpiece to mark Sketch in Mayfair's tenth birthday
With its pod toilets, cutting edge decor, innovative cuisine and A-list clientele, Sketch in London's Mayfair, was an instant hit on its opening back in 2002. For its anniversary it's been given a dramatic revamp by former Turner Prize winner Martin Creed in a (we think successful) bid to recapture the illicit thrill of its youth. Creed has designed Work No.1347 - a beautiful, zigzagging, floor piece created from 96 different kinds of marble - one for each of the different kinds of the stone currently available in the world.
Creed created a marble floor piece at the gallery Gavin Brown, in Manhattan two years ago. At Sketch, the work extends to the walls with a series of paintings and large-scale wall paintings. Exemplary of the logical and welcoming systems that recur throughout the artist's work, the floor, walls and furniture take the form of new artworks inspired by the boundaries of art and functionality.
Following the logic of the floor piece at Sketch, Creed's other piece for the restaurant Work No.1343, encompasses every item - chair, table, glass, knife, fork - ever used in the dining room. "I want the whole world to be in it," says Creed. The work brings together a mix of the mass produced and handcrafted, from classic antiques to contemporary design from all around the world. Creed's work is the first of a series of artist collaborations at the restaurant and will be 'on show' for a year.