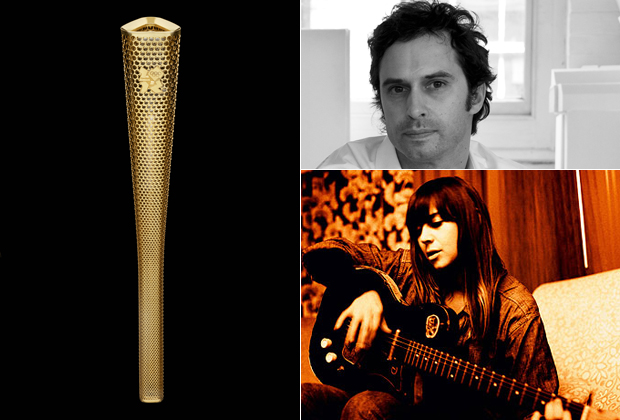 Edward Barber's Muse Music
Designer of the London 2012 Olympic torch on the music that gets him in a creative mood
For this week's Muse Music we caught up with Edward Barber, one half of design practice BarberOsgerby which has established an impressive reputation since it was founded in 1996.
It was in their first west London, Trellick Tower studio that Edward Barber and Jay Osgerby created _Loop Table _(manufactured by Isokon). When showcased at the Milan Furniture Fair the design won over Giulio Cappellini, owner of the great Italian manufacturing company and sparked the first of many successful working partnerships that quickly propelled BarberOsgerby onto the world stage.
Much of their early plywood and Perspex work was inspired by the folded white card the pair used for model making during their time studying architecture at Royal College of Art in London where they met.
Later they began using colour as a starting point for their designs such as in the Iris table created in 2008 for Established & Sons. The following year they designed a series of brightly coloured large-scale glass vases commissioned by Murano glass-makers Venini which were shown in Milan, Porto Cervo and London.
They have developed collections with the likes of Vitra, Swarovski, Levi's, Flos and Magis and their work lies in the permanent collections of the Victoria & Albert Museum, London, the Metropolitan Museum of Art in New York, the Design Museum in London and the Art Institute of Chicago.
The pair won the competition for the 2012 Olympic Torch design which will travel around the UK this summer carried by 8000 torch bearers before reaching its final destination at the Olympic Park in London. The Olympic Torch also features as one of three BarberyOsgerby designs shortlisted for the Design of the Year Awards 2012 and also includes their _Tip Ton _chair for Vitra and their Ascent series for Haunch of Venison.
You can listen to Edward Barber's Muse Music on Spotify or iTunes, but before you do, this is what he had to say about it.
"Music has always been important to me. It's a companion that has such a strong effect on my moods and thoughts and comes to the rescue at those critical moments. My musical influences came from everywhere; from my grandmother's piano to late night radio shows with John Peel. I spent a lot of my teens and twenties rummaging through record stores in the search for rare vinyl, always eclectic and from different time periods. Years ago I lived in North America where there were so many great record stores, I used to carry a notebook full of all the tracks I was seeking in my pocket so I would never miss out! Whatever happened to all that spare time?
At the beginning of a project, during the sketching process, having music playing makes the ideas flow more easily. There's scarcely a time that music isn't playing in our studio.
I found it an impossible task to choose ten tracks. I went from 50 to 40 to 20 to 11! I just couldn't get it down to 10. I've chosen songs that have lasted after endless plays although there are huge omissions I would have loved to add."
__Gonzales _Salon Salloon - ___ Gonzales' pieces are simple and beautiful but full of character. This is one of my favorites. I like to start the day with some piano music, it's perfect to focus the mind and build up slowly to the day's challenges. Beethoven's piano sonatas are another regular favorite and are my musical equivalent of coffee, which I desperately need first thing!
Devendra Banhart ___ Cripple Crow__ _ - Devendra Banhart features regularly in the studio playlist. This song is a slow, dreamy, morning tune. He has an extraordinarily intense voice and usually bizarre lyrics. The Cripple Crow album has so many great tracks.
Doves ___ Firesuite__ _ - I've been friends with Andy and Jez Williams for over twenty years, well before they formed the band Doves with Jimi Goodwin. We worked together last year when they wrote the music for a short animation we did with Vitra about our _Tip Ton _chair. This is the first song off the Doves' first album. It signified a momentous change from their dance music phase after their studio dramatically burned down.
Augustus Pablo ___ King Tubby Meets The Rockers Uptown__ _ - I have an on/off relationship with reggae. When I'm in the mood nothing beats it but when I'm not it's hard to listen to. However it forms a substantial part of my early music collection, in particular 70s reggae. I made a few trips to Jamaica in my early twenties on the scout for music (amongst other things!) and this is one of the 7" records I bought. I saw many artists play in tiny venues and on beaches in Jamaica and one of those was Augustus Pablo. Jay and I used to play a lot of dub in our first studio in Trellick Tower in the early days. It always reminds me of those good times.
__Cat Power _Metal Heart ___ - I could have chosen almost any Cat Power song for this selection; a powerful singer, total genius. I have seen her live many times and each time is different but always brilliant. Her skill of reinventing covers is unlike anyone else. This original version of Metal Heart on her Moon Pix album is my favourite because of its haphazard structure, but the later version on Jukebox is also incredible.
Neil Young ___ Down By The River__ _ - I always found it intriguing that Neil Young changed his band on different albums to create a different sound. I like that idea and I think there are comparisons in the way we work with different companies on different design projects, each company bringing different influences to our work. Young's albums with Crazy Horse are my preferred and this epic track is the pinnacle of their collaboration.
Velvet Underground Some Kinda Love - Another of my all time favourite bands and again I could have chosen almost any of their songs. The Velvet Underground formed the musical background of my late teens. Lou Reed's quirky lyrics and brilliantly soulful music is enduring. This is from their first and best album in my opinion.
Bob Dylan ___ Baby Let Me Follow You Down__ _ - I couldn't complete the list without a Bob Dylan track. I feel quite old by saying this but he's too important in my life not to include. This is a great live version of Follow Me Down.
Mazzy Star Rhymes of an hour - I loved this song the first time I heard it and it still sounds as fresh fifteen years later. I seem to have a passion for melancholic songs! I remember listening to the album (Among My Swan) on a train journey from Milan to Venice a few years ago, on my way to the glass maker Venini with whom we produced our _Lanterne Marine _series of vases. I find it a great album to work to.
Milton Nascimento ___ Para Lennon E McCartney__ _ - I played a lot of Brazilian music during my days studying at the Royal College of Art. It reminds me of the top floor architecture studio that looks out over Hyde Park and the roof of the Albert Hall - the most perfect studio in London! Soon after that I made some trips to Brazil and fell in love with Rio. Milton Nascimento is one of Rio's stars and his music can always heard on the streets of the city.
Alela Diane ___ Lady Divine__ _- I went to see her play in a church in London a couple of years ago and from then on I was hooked. Her songs are beautifully crafted and her voice is so rich and distinct.
You can listen to Edward Barber's Muse Music on Spotify or iTunes.
You can also listen to these creatives' Phaidon playlists:
John Pawson
United Visual Artists
Simon Fujiwara
Samuel Wilkinson
Alex Hartley
Brian Griffiths
Michele Howarth Rashman
George Condo
Martin Boyce
George Shaw
Karla Black
Piers Secunda
Mark Titchner
Chris Johanson
Edmund de Waal
Haroon Mirza
Sign up to the Phaidon newsletter to get future updates.