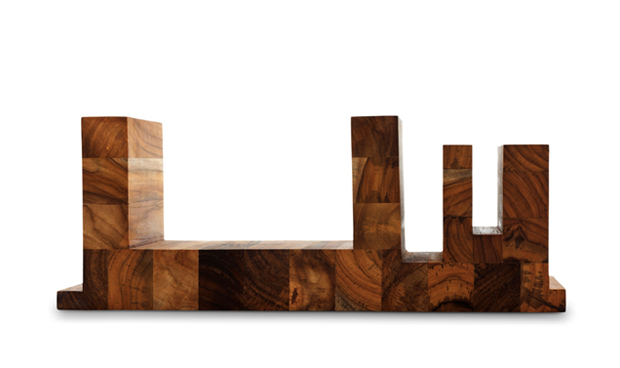 Berlin's new design showcase
Qubique show at Tempelhof airport introduces furniture design to next generation
A new design fair, Qubique, is running in Berlin's stunning 1930s Tempelhof airport which was decommissioned in 2008 and dubbed "the mother of all airports" by Sir Norman Foster.
Dominated as it is by German and Nordic brands, rather than the usual Italian ones (plus a sustainable newcomer from Mexico called Pirwi, wowing the crowds with its Pack of Dogs teak shelves above), it's already carved out its own identity and charm.
While it isn't the sort of show where you'd expect to find many new products (they're saved for Milan Furniture Fair in April), there are, nonetheless, a sprinkling of interesting launches. Clever Danish company Gubi, which is busy re-editioning beautiful pieces from the 1940s to 1960s, and managing to produce them for reasonable prices, is showing an elegant leather framed mirror by Jacques Adnet first made in the 1950s. Adnet was a designer at Hermès, and the equine buckle details as well as the sophistication of the piece reference the fact. Muuto, a company that fairly sums up the sensible, subtle world of Nordic design (their stand smells of freshly cut wood) is presenting a production version of Thomas Bentzen's cute kiddy-sized occasional tables that had only got to prototype stage by Milan earlier this year.
But the really new and interesting initiative comes from Sebastian Wrong, creative director of British contemporary furniture company Established & Sons who introduced his new project, The Wrong Shop, on Tuesday evening. Wrong's plan is to re-invent the relationship between designers and producers which has historically relied on manufacturers paying royalties after sales; he's simply going to give them half the profits.
He's kicked off the project with just four pieces – a delicate teal-coloured 8-legged console table that feels like a departure towards a more feminine aesthetic by Konstantin Grcic; a chair designed by Wrong with painted wood decoration by Richard Wood; a sizzling yellow chair of patchworked pieces by Jerzy Seymour; and a rubber topped occasional table designed to fit into an awkward corner, also by Wrong.
On Tuesday night he took the risky decision to auction the prototypes at the fair's launch party. A signed Grcic table went for a bargain 1,200 euros even though it's potentially worth five times that. Wrong's own chair reached 3,000 euros. The auction's profits went to Kids Company, a Shoreditch-based charity helping vulnerable children.