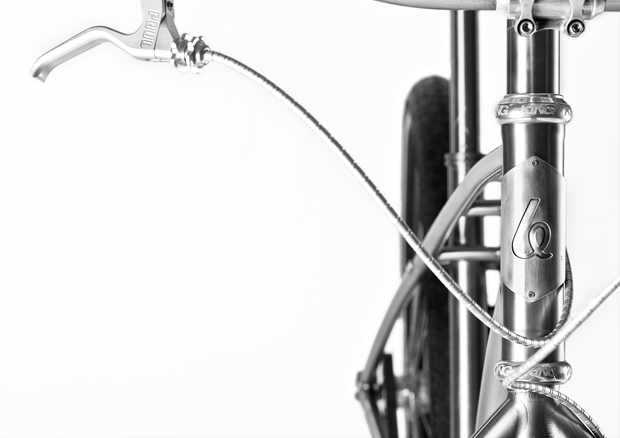 The man who made bikes beautiful again
Paul Budnitz puts a sense of style back into cycling
Despite the growth in popularity of cycling over the last ten or so years, no company has really stepped in to cater for an urban market that wants to look better than, rather than merely go faster than, everyone else. After all, isn't life meant to be about the journey?
The progressions in bicycle design have been limited to high-end manufacturers creating ever more lightweight (and often ugly) machines designed for road racing, rather than reflecting the aesthetic concerns of the owner. In America especially, the great period of beautifully designed utility bicycles all but died after Peter 'Bullit' Yates' 1979 bikecentric coming of age movie Breaking Away, after which everyone, it seemed, wanted a race bike and manufacturers responded accordingly.
Towards the tail end of last year that balance shifted however, when serial entrepreneur Paul Budnitz entered the market. You may know him better as the multi-millionaire founder of designer toy company Kidrobot, or the man who did this for Swatch. Or maybe even as director of the movies Ultraviolet and 93 Million Miles From The Sun. As he explains over the line from Boulder, Colorado, "If you're kinda like me and had the impression that you're not particularly talented at anything you never get stuck on one thing. I do whatever I want and just ask for help. After all, they know I'm an idiot."
Obviously, he's not. The son of a nuclear physicist ("dad was kinda intense, his job was to stop reactors melting down") as a 15-year-old he would hare it on two wheels down to Berkeley University where he'd managed to gain access to the mainframe computers. Once in, he would write computer code, some of which ended up in games (including Defender) for the famed Commodore 64. Later, in the heady days of Kidrobot (in 2007 MOMA acquired 13 toys for its permanent collection) he devised a somewhat suicidal, commando bike route through Manhattan from Central Park to SoHo - pretty much a test of acceleration, agility and mortality. When his wife and child arrived however, thoughts turned to doing the route stylishly rather than speedily.
"I started looking around for a bicycle that was elegant, incredibly beautiful, super lightweight with top components but made for city riding," he explains. Naturally, there wasn't one - a state of affairs that armed with some articles on the physics of cycling given to him by his father, the advice of bike industry legend David Lynskey (creator of the first titanium bike) and a handful of prototypes he quickly changed. Paul Budnitz Bicycles was in business.
There are currently two city bikes in the range: The No: 1, a lightweight commuter is designed for the city; The No: 2 he describes as a kind of fun BMX bike for adults with fatter tyres and a smaller rear wheel. There are loose plans for two more – one possibly made of steel to keep costs down (the current line up weighs in between $5-7000) and a 'dirt racer' designed for picnics in those hard to reach places.
Both are beautiful in their own way with clean lines and the kind of quality components (Chris King headsets for example) that riders of carbon race bikes will recognise and appreciate. Lynskey Performance manufactures each cantilevered frame, while a carbon belt drive chain negates the need for lubricant, keeping clothes clean and chain on the bike - not wrapped around your ankles.
"You don't end up with chipped paint because they're not painted and if you do get a scratch you can always fix it up with a Scotch-Brite Pad," Budnitz says. "Also, as well as being lighter, titanium is harder than steel and it's a great material for riding on so there's a sense of completeness. Another thing with the bike is that it won't corrode so you should have it for the rest of your life. There's an ethic of simplicity and environmental friendliness there. That's important. I love beautiful things and putting them out into the world but I don't like clutter and feel oppressed by it very quickly. I'm fairly neurotic so having stuff around bugs me – more so when I get attached to it. So the fact that you should have the bike for the rest of your life pleases me."
As you'd expect for a machine that's as elegant as an expensive car, the buying process is somewhat different too. Budnitz is the first multimillionaire CEO we've called who answers his own phone extension. "I'm selling direct so I can control it more and make sure people are getting the experience they signed up for," he says. "Some of our customers already have like 17 bikes including race bikes, others haven't ridden for years and have decided this looks like a fun way to start again. They're for people who are into lifestyle, beautiful things and good design."
For more information and to buy click here.