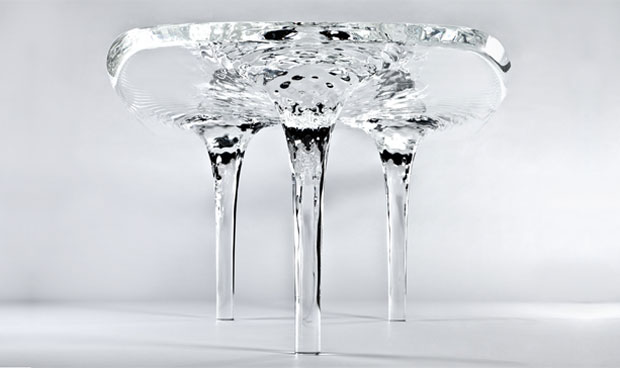 Zaha Hadid's frozen water table
Hadid explores the dynamics of water with latest design - no need to worry about spilling something hot on it
No stranger to making her concrete structures appear as if they're made of water, architect Zaha Ḥadid's latest piece of design takes the concept one step further. It may look like a beautifully fragile ice sculpture, but it is in fact a frozen-water-inspired table. The_ Liquid Glacier_ table is made from clear acrylic, meaning it won't melt like ice (or, more importantly, shatter like glass). Londoners can see the table at the David Gill gallery in Chelsea until May 30 and there are plans to put the piece into production.
The piece is an example of Hadid's exploration of liquid forms. Another example is currently exhibited in Berlin. The Buchmann Galerie - hosting its third Zaha Ḥadid show - features the famous furniture-sculpture _Iceberg _comprising a bench made of two 'frozen' icicles, which form the horizontal seat.
The Iceberg furniture piece, designed for Sawaya & Moroni, is part of a line of formal research that explores the idea of liquid territories. Also on show is the more angular, futuristic piece Gryre from the 2006 Seamless Collection by Hadid for Established & Sons, an obvious evolution of the architectural language: soft meets sharp, convex and concave, and a sculptural sensibility that impactness on our self-conception.
These sculptural pieces sit alongside eight silver paintings and three dot paintings by the artchitect. Zaha Ḥadid's work is on show at the Buchmann gallerie, Berlin until June 23.