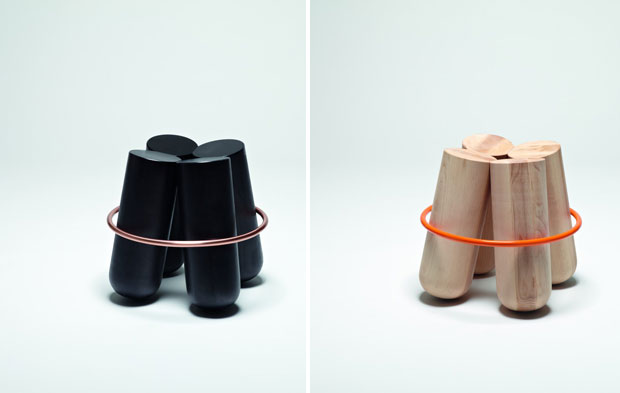 The Jekyll and Hyde of furniture
Design brand La Change presents light and dark versions of each of its pieces at the Milan Furniture Fair
What's the most sure-fire way to broaden the appeal of a piece of unusual design? While one school of thought might be to tone down its cutting-edge aspects in the hope of making it more palatable for the mass market, French design brand La Change revealed a refreshingly simple way of doubling the interest in their products by making their collection of statement pieces for the home available in both light and dark colour ways. The Jekyll And Hyde Collection comprises stools, tables, shelving and lighting that come in either neutral, light and bright hues or darker, more moody tones. All are made in noble materials - metal, marble, solid wood, or glass.
"We see two potential audiences for luxury furniture," a company spokesman said, "There are the design enthusiasts, who want uncompromising pieces in bold colours. Then there are people who love contemporary design but prefer more muted tones. To accommodate these two audiences, each piece of the collection comes in two – moods Jekyll and Hyde."
Le Change's offering at MOST at Salone Internazionale del Mobile is made by 11 individual designers or studios each contributing one or two pieces to the 13-part collection. One of the highlights is the Bolt stool made by the Swedish design studio Note. It is a stool with a simple construction – four cylinders of solid wood are held together by a metal ring. The result is both a modern and statuesque object, amd despite its looks, is unexpectedly comfortable to sit on. It can also be used as a side table. The Bolt stool comes in two different versions: the Hyde version features prime colours and shiny finishes while Jekyll is in monotone or natural materials.
Another piece to note in La Change's collection is the Magnum table by Pierre Favresse. It's a dinner table that is made of bulky elements yet remains elegant. Pierre Favresse chose to use a thin matrix of metal linking thick wooden or marble legs to a heavy tabletop in dark or painted primary blue wood.
This year's Salone Internazionale del Mobile runs until April 22. For our picks of some of the must-see pieces from the fair, make sure to check out our article on the highlights. Another highlight of this year's fair was the launch of the Bouroullec Brothers new book Works. It is a comprehensive overview of their sparklingly career in furniture and lighting design.