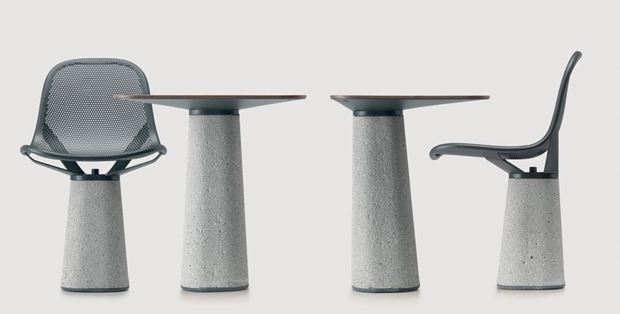 McDonald's furniture revamped by Patrick Norguet
Likeable Paris-based designer takes Maccy Ds upmarket with hand finished concrete furniture
French designer Patrick Norguet's relationship with McDonald's is certainly bearing fruit. Last year, there were his classy new interiors of the fast-food chain's French outlets. Then he designed some pleasing, multi-hued reusable coffee cups, and now the chain's outdoor spaces are getting a new line of furniture by Norguet and Italian brand Alias.
Called the Côme collection, it comprises 18 modular pieces that make up four- and six-person tables, chairs – with and without armrests - and benches. He's also designed screens to keep the wind at bay. The likeable Paris-based designer, who has worked with Alias in the past, says of this collection that it "needed to be low-cost, robust, sensual and quick to develop".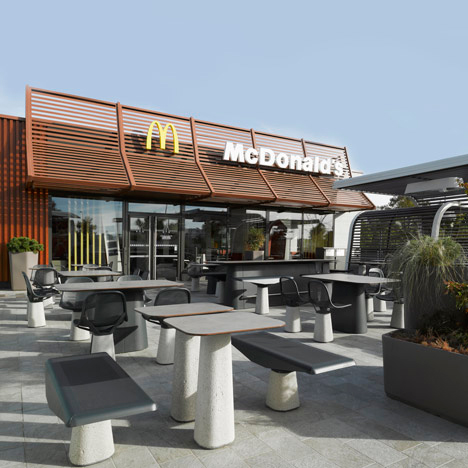 So he sat a perforated metal seat on a rounded concrete based, with the idea of echoing traditional street furniture. McDonald's fans in Bordeaux and some in the north of the country are already able to try out the new furniture, while another 150 terraces will get the Norguet treatment over the new two or three years.
Alias adds that "the cement surfaces have all been sanded by hand, ensuring the highest possible levels of resistance to atmospheric agents. The windbreaks are made from tempered and layered screen-printed glass."
Sadly, this is only in France, as McDonald's seems to have a country-specific design programme going on. Hence UK designer Wayne Hemingway's tasteful new uniforms for UK staff.