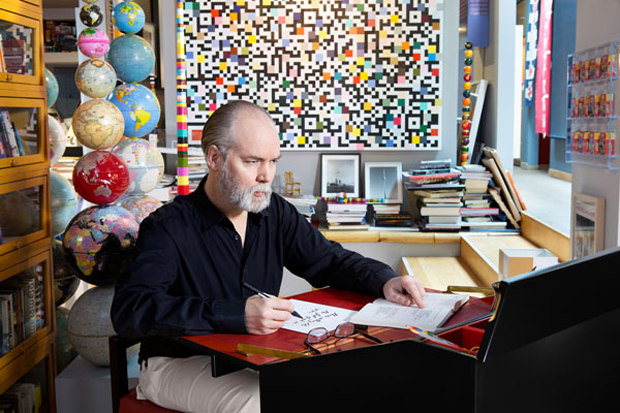 Author Douglas Coupland designs furniture range
"Escritoires are elegant - with one flip of a lid I can conceal mountains of crap while everyone looking on thinks I'm this really together stylish person!" Generation X writer says of new Switzcultcreative range
The author Douglas Coupland may be best-known for his book Generation X, but he actually started out in design school. He studied at Vancouver's Emily Carr Institute of Art and Design, and followed that up in the 1980s at Hokkaido College of Art and Design in Sapporo, Japan.
And there's more than a hint of Japanese influence in Coupland's debut furniture range. Entitled Douglas Coupland for Switzcultcreative, it comprises all the things that a professional writer might need: an escritoire, a writer's chair, a bookshelf, a table lamp and a standing lamp.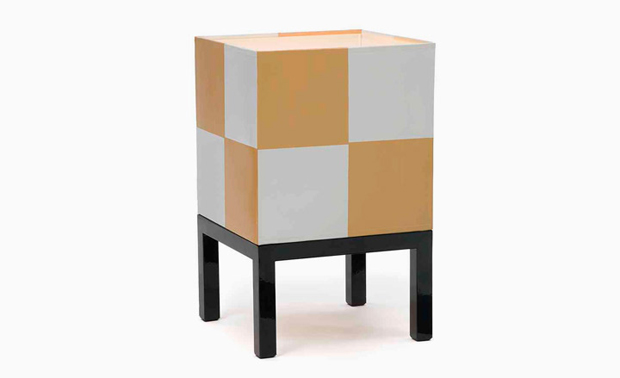 The Far Eastern references are most obvious in the escritoire, which borrows the proportions of a traditional bento box. "Of all the design approaches to materials, I genuinely think the Japanese have the most engaging," Coupland muses, "Staring at the escritoire alone, with its combination of colours, puts my brain in a really happy place."
Indeed of all the pieces in the collection, the black lacquered escritoire holds a place particularly close to his heart. "Escritoires are elegant: with one flip of a lid I can conceal mountains of crap inside while everyone looking on thinks I'm this really together stylish person. It's a very handy piece, but it belongs in one of those extinct categories of furniture, which you can't find around anymore."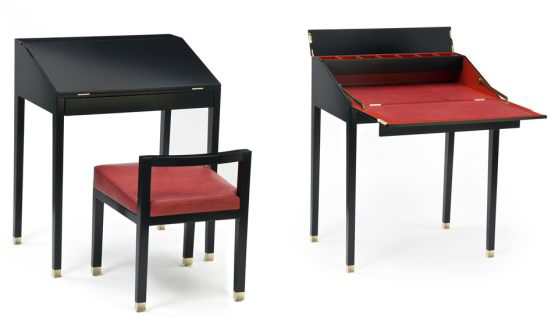 The lights, chair and bookshelf are clearly from the same family as the desk, with their geometric lines and use of strong blocks of colour. The lamps' chequered pattern was spotted by Coupland in Kyoto's Ryoan-ji Temple in 1986. Meanwhile the Osaka stacking bookcase has a similar form to some book shelves the novelist saw in the city after the 1995 earthquake.
"When I went to art school in Hokkaido, I had to study several Japanese art forms - ikebana, rock arranging, calligraphy and sumi-e painting," says Coupland. "I think everybody should study these things. It makes you reframe the way you see the world."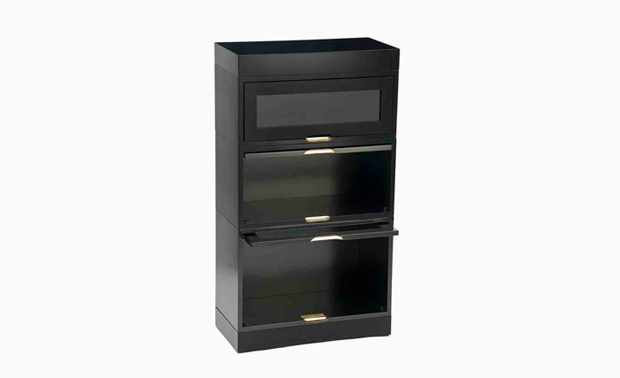 The range was produced with brother-and-sister furniture business Switzerlcultcreative, which was set up in 2011. Fellow Canadians Allan and Renee Switzer are committed to using only locally sourced materials. "In the same way that we care about the food we eat, we place a great importance on knowing where our products come from," says Allan Switzer.