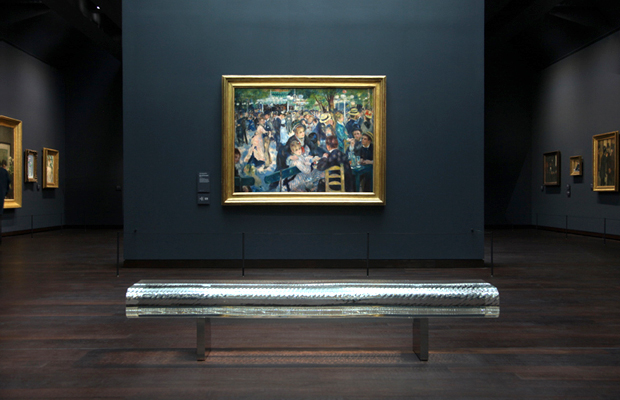 Tokujin Yoshioka creates a lasting impression
Japanese designer installs Water Block bench in front of Impressionist masterpieces at the Musée d'Orsay
Tokujin Yoshioka has installed a set of his Water Block benches in the newly renovated Impressionist gallery at the Musée d'Orsay, Paris. The glass block sculptures mimic the effect of water.
Yoshioka is one of Japan's most important designers, creating his experimental designs for over two decades and pursuing a design partnership with Issey Miyake, producing the fashion designer's boutique spaces and an exhibition, Issey Miyake Making Things at the Cartier Foundation, Paris in 1998.
Water Block is part of an ongoing theme for Yoshioka - he's previously created a chair and a 4.5 metre long table from his own practice housed in a 150 year-old former rice warehouse in Tokyo.
Offering a suitable contrast between classical works and Yoshioka's modern design, Water Block offers visitors a moment to sit and ponder some of the museum's great impressionist works by Manet, Degas, Monet, Cézanne and Renoir - further proof of art's ability to rejuvenate flagging minds, and bodies.